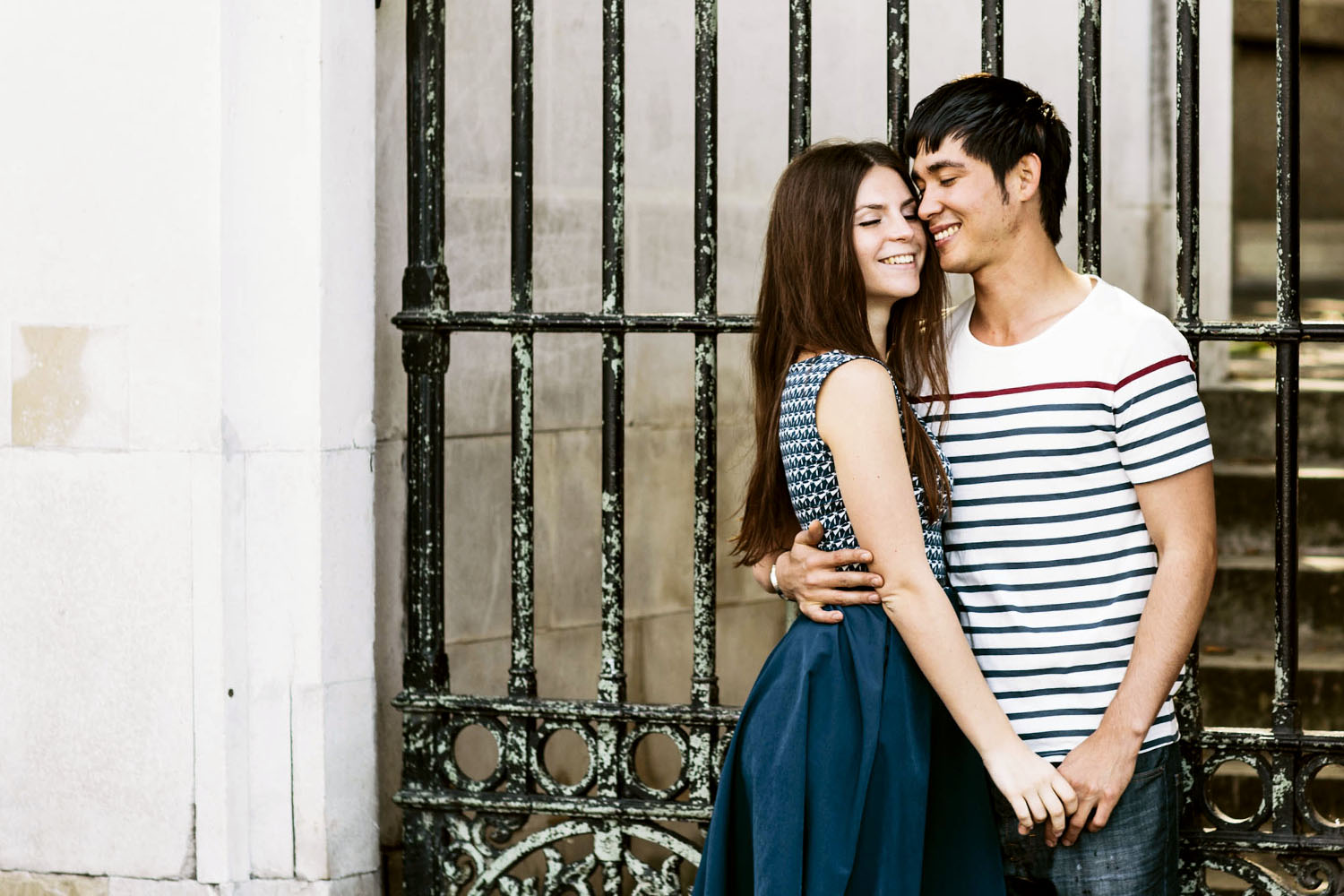 London Engagement Photo Locations
I would say that one of the most popular questions I receive from couples is this.
"Do I really need to book an engagement session or not?"
My response is simple.
Organising engagement sessions can really help you both to feel fully comfortable in front of the camera prior to your wedding day.
Especially if you find the best London Engagement Photo Locations.
Engagement Photography is a huge passion of mine and is something which has gained massive popularity since arriving from The U.S. about 10 years ago.
You only need to look on a wedding blog like Style Me Pretty to see an abundance of gorgeous engagement pictures.
Some photographers refer to the engagement shoot as the pre-wedding photo shoot, so don't feel confused if you see me using both terms, because they are one and the same thing!
Whatever they are referred to these days, these photo shoots are a fantastic idea.
Engagement sessions allow you both to fully relax and feel comfortable in front of the camera without there being any external pressures.
After all, it's completely human to feel slightly nervous in front of the lens.
I feel exactly the same about having my picture taken and I am a photographer!
Nobody enjoys being photographed which is the you should get as much exposure to the camera as possible before your wedding day.
Then when your big day comes around, your wedding photography will feel like a walk in the park!
You will be visibly relaxed and super chilled.
Another huge benefit is that you get the chance to really connect with the photographer.
Frankly, would you want an unknown person turning up on possible the most important day of your lives?
Which is why it is highly recommended to create an opportunity to get to know them before your day.
I suggest booking an engagement photo session once you're engaged but make sure to find wedding photoshoot locations near me.
Why?
Because you're then able to go public with the announcement and produce the proof on the Gram!
Also, of course, it's a chance for you to secure your wedding photographer before they get booked up.
It's always recommended to choose someone that you feel connected to.
All over London, no doubt you'll see lots of photography sessions like these taking place.
As a London local, I'm forever checking out new and inspiring locations for lovey-dovey engagement photos.
People jet in from the world over to get pictures here and it's not hard to see why.
The variety of London engagement photo locations are almost limitless.
There's an abundance of varying angles and so many different styles when you spend time here.
Whether that's for your actual engagement photos, wedding photos, or your romantic proposal.
It's true to say that there are literally thousands of options when it comes to locations as an ideal backdrop.
So where exactly are the best, secret photography spots London to have engagement photos?
I've been an engagement photographer for more than 13 years.
And I've been in the business long enough to know all the tip top secret places as a London local.
So, I won't waste anymore time in presenting my best engagement photos in London.
Please keep scrolling to view all the great London Engagement Photo Locations and go all the down to the bottom.
Happy viewing!
For more info, please contact me.
1. Tower Bridge Engagement Photos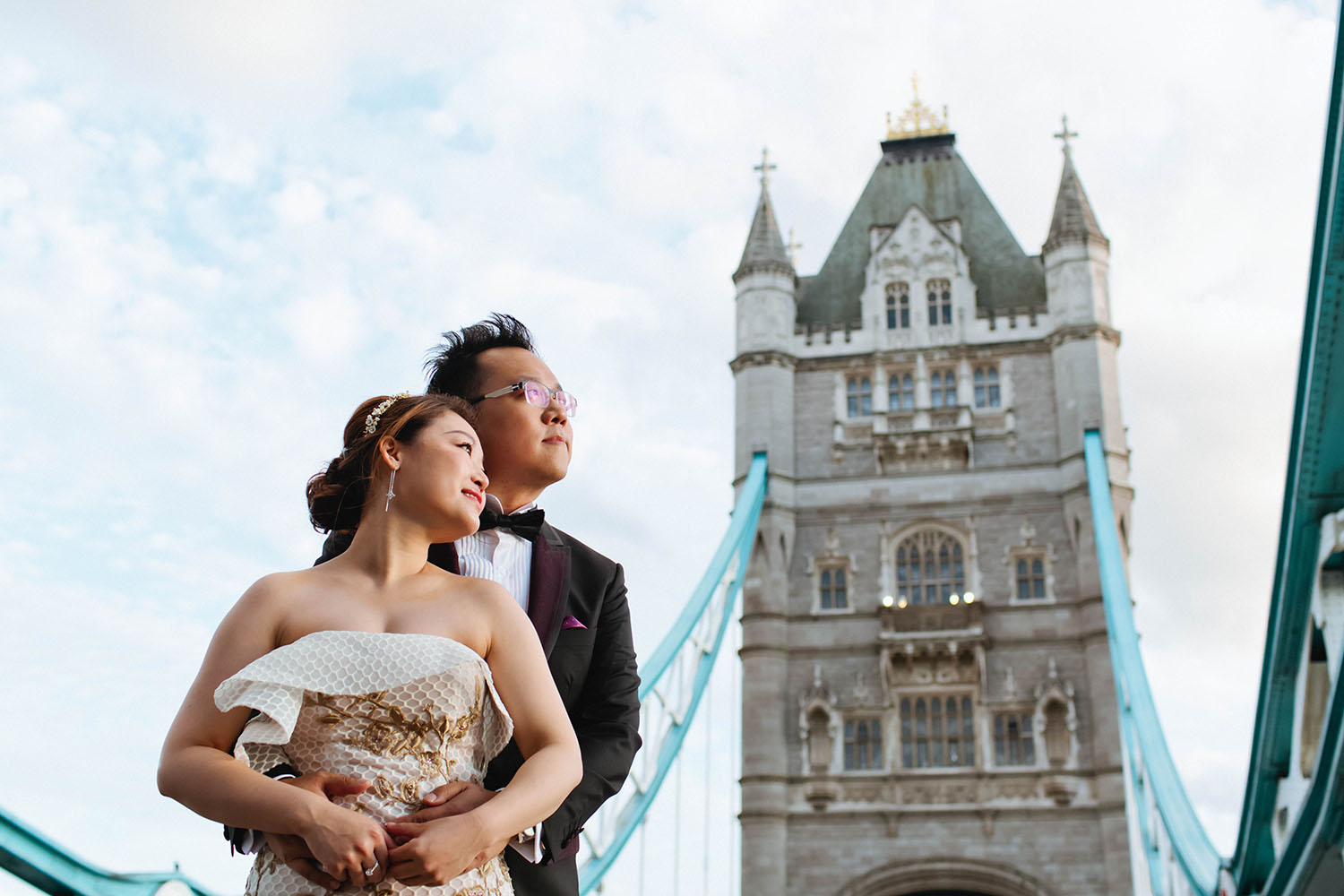 Located at Tower Bridge Rd, London SE1 2UP.
People often mistake Tower Bridge for London Bridge.
Though they are very different - Tower Bridge has the tower.
London Bridge is quite plain and is not photogenic enough to feature in a photoshoot!!!
Anyhow, this bridge has been popular for a long time and for good reason.
For starters, it is one of the best AND free photoshoot locations.
It's also one of the most iconic structures in the city with incredible views down The Thames across Southwark.
It's one of the most famous views in London surely and perhaps one of the very best pre wedding shoot locations UK!
London has so many beautiful backdrops for photography.
Incredible locations close by include Tower of London, Hyde Park, Big Ben, Buckingham Palace and the London Eye. But when it comes to photo spots within London, this place is something else and I think a bucket list in terms of London Engagement Photo Locations.
2. St Paul's Cathedral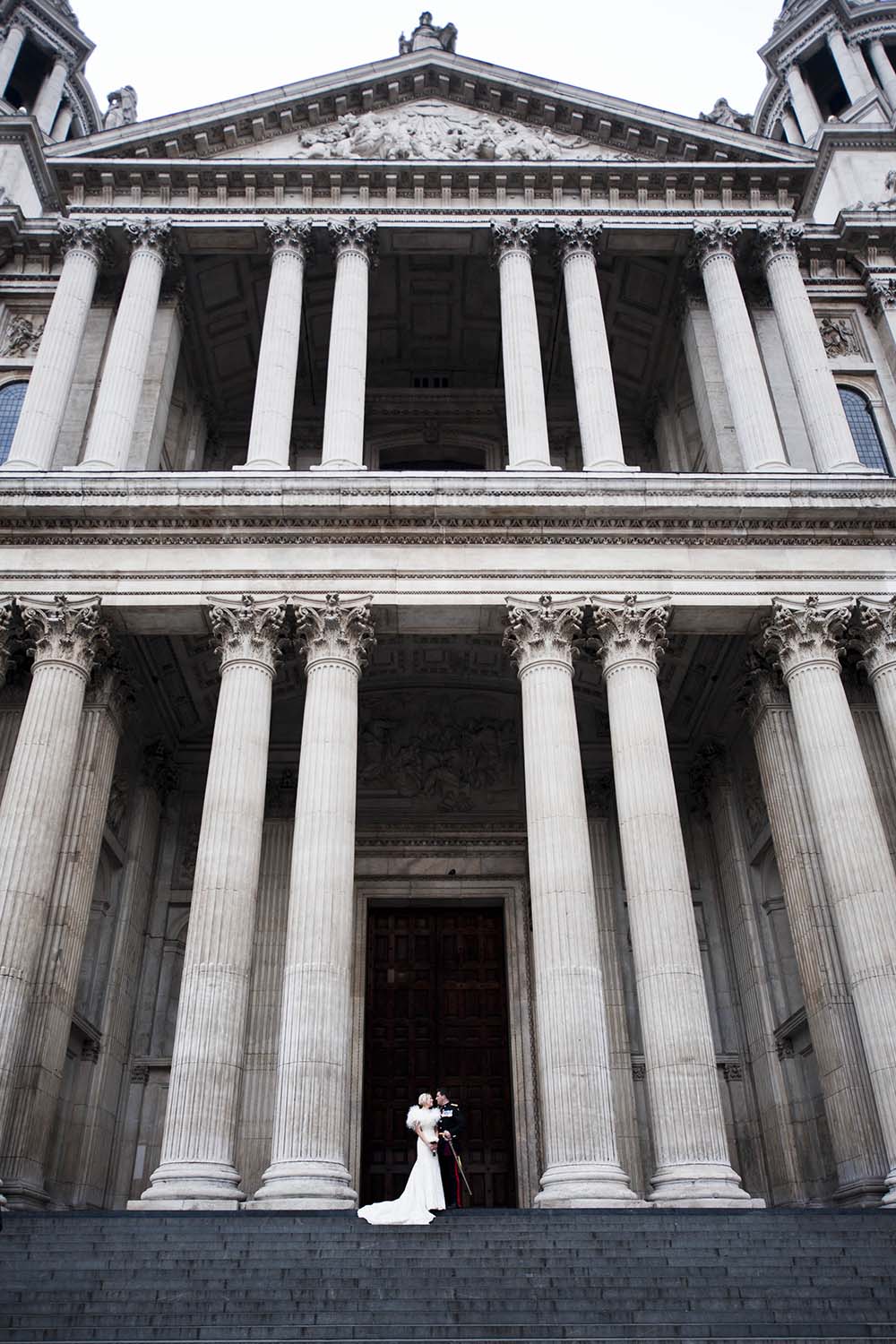 St Paul's Cathedral is possibly the most celebrated of London cityscape landmarks.
A truly legendary landmark with an incredible dome that stretches a full 366 feet into the sky.
It is of course a hugely popular destination for photographers in the city.
Tourists flock here in their droves too!
This beautiful cathedral has been featured in a tonne of films and TV dramas over the years.
If you head to the top of the dome, St Paul's Cathedral supplies breathtaking views from one of the tallest viewing platforms in London.
Unsurprisingly, more than two million people come here each year.
Everybody it seems want to capture beautiful, iconic photos fuelled by memories.
If you are planning a visit to London and maybe you don't have enough time to go sightseeing, then come here.
St Paul's Cathedral is situated on a road called St. Paul's Churchyard, London EC4M 8AD, just around the corner from St Paul's tube station.
"St Paul's Cathedral" is a genuinely unique building within London.
It providing so many breathtaking opportunities for photos.
If you want to avoid the crowds, I do recommend arriving relatively early.
Just as the sun is setting is also great and the ideal setting for London Engagement Photo Locations.
I have to be honest and let you know that during the day, it is very busy.
If you're thinking about organising a pre wedding photography shoot, why not check out St Paul's Cathedral as it's a great spot for London Engagement Photo Locations.
Please follow the link for tickets for entry for the views at the top of the Dome Galleries.
3. Old Royal Naval College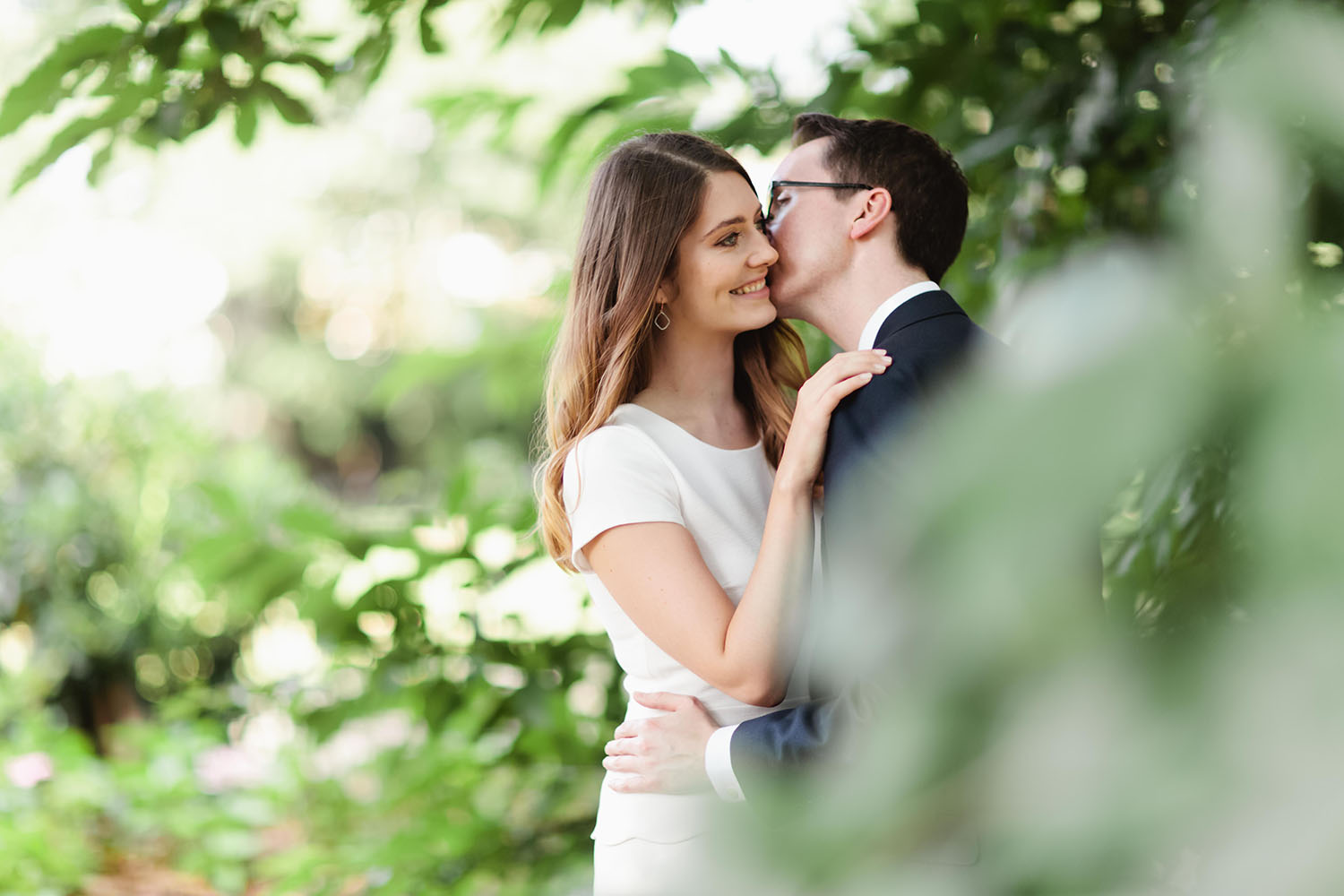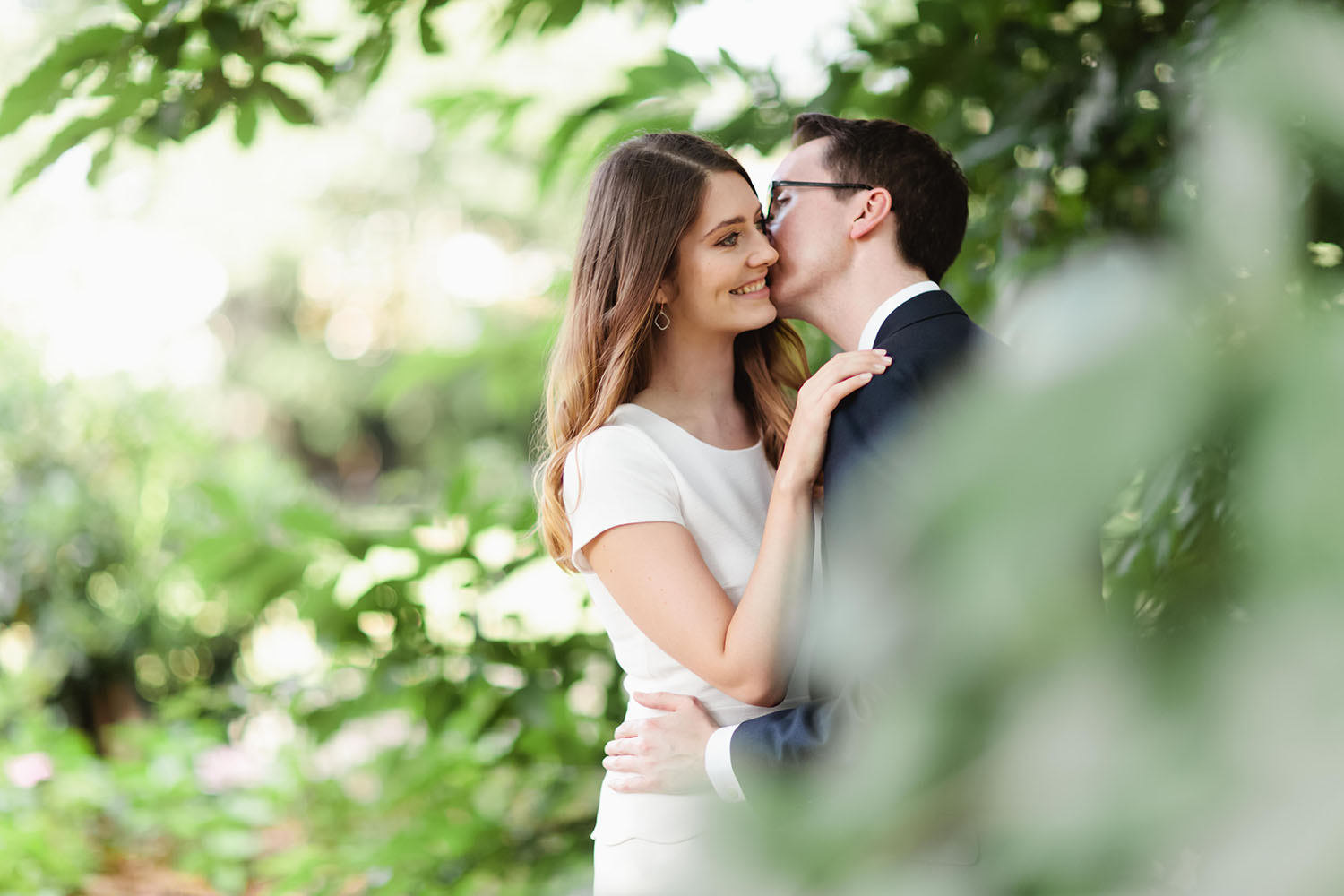 Old Royal Navy College is located within the heart of historic Greenwich, a UNESCO World Heritage Site and you've guessed it, another fab place for London Engagement Photo Locations.
If you're not familiar, Greenwich is also the home of the meridian line.
What is the meridian line I can hear you cry?
This is where both longitude and latitude both start at 0!
It's also home to some of the most aesthetically pleasing and romantic structures on the planet.
The most beautiful of which is very close to the River Thames.
The sailing ship, Cutty Sark.
Actually, as well as Old Royal Naval College, there are so many other locations for photo opportunities.
From here, you can mosey along to Greenwich Park, a lovely place which is beautiful year round.
The park itself is huge.
It offers a vast 184 acres of veritable wilderness filled with grass knolls, hedging and foliage.
There are lots of mature trees and an abundance of places to hide from prying eyes, perfect for sessions like these.
Within Greenwich Park is also The Old Royal Observatory, another gorgeous and historic ancient building.
Anyhow when it comes to photoshoot.locations London, let's get back to Old Royal Navy College.
These extraordinary buildings were built in 1694 and designed by Sir Christopher Wren.
Funnily enough, Wren also created St Paul's Cathedral - small world!
4. Bomber Command Memorial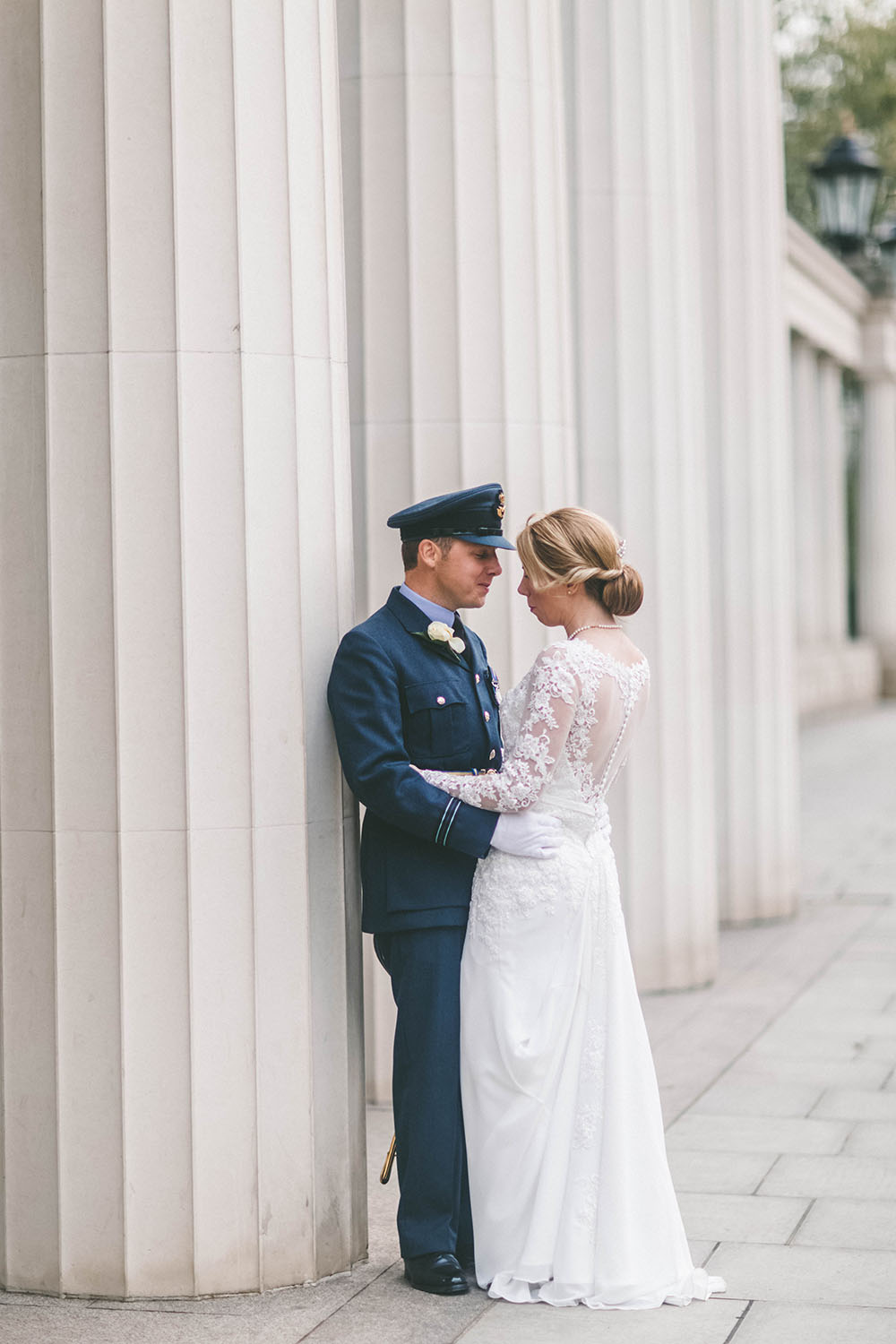 Bomber Command Memorial was designed and created by the Royal Air Force to remember the valiant RAF Second World War bombers.
It's fairly easy to find as it is directly across the road from The Royal Air Force Club on Piccadilly, Green Park, in the heart of Mayfair.
It is also situated at the very north western corner of one of the most famous Royal Parks.
Green Park itself, which is right next to Hyde Park Corner.
In fact if you turn left from Bomber Command Memorial, within a minute or so you can walk through Green Park along the famous Constitution Hill.
From there, it's only a short walk to Buckingham Palace.
Anyhow, back to Bomber Command Memorial.
Unless you have RAF connections, you probably won't want any pictures of the sculpture itself.
Instead, you will want to get photos of the Palladian style white arches - it's one of the less popular London Engagement Photo Locations but I love this place.
The arches are so iconic and create a real sense of destination.
It feels less like London and more like Rome or Greece.
The arches are just so photogenic and just one of the best and lesser used locations for engagement shoot.
Once you've captured all your angles, then head into the heart of Green Park for some picturesque moments.
Even in the height of summer, the northern part of the park never seems to get busy.
As Mayfair parks go, Green Park is a great locale for comfortable, relaxed shots.
As London Engagement Photo Locations go, this corner of the capital is gorgeous because you're away from the glare of the busy city.
To book your engagement photo session, please do contact me.
5. Richmond Park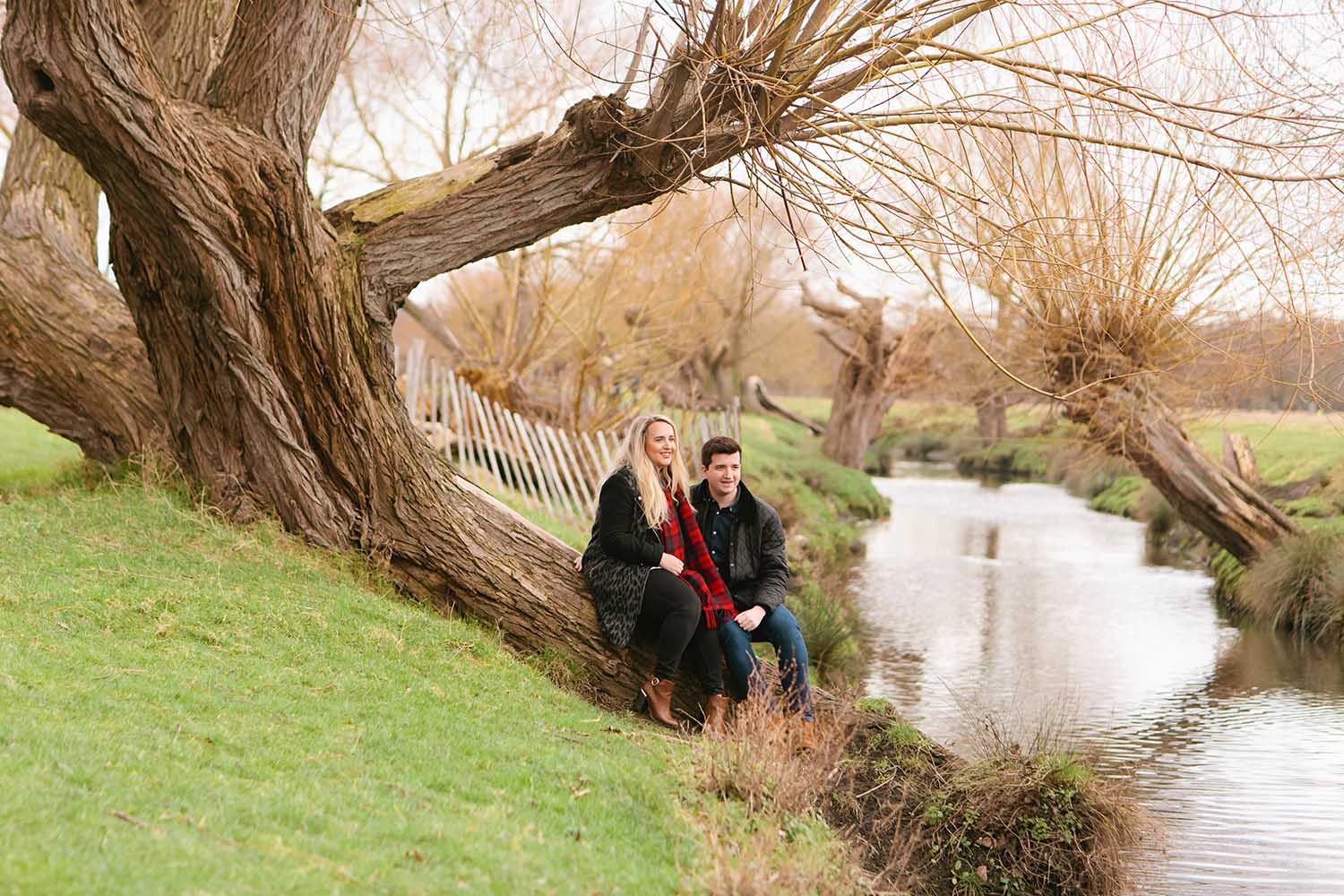 Richmond Park lies around 9 miles from Central London.
Of all London's Royal Parks, it is the largest by some distance.
Richmond Park is big.
Very big!
More than 2,300 acres of green space and home to some of the best flora and fauna in London.
London engagement photos in Richmond Park are simply w-o-w.
It is the perfect backdrop for a surprise proposal or wedding photos and hard to believe it's so close to the beating heart of the City of London.
It really feels like you are in the middle of the countryside and oh my goodness, a firm fave of mine for London Engagement Photo Locations.
On a walk here you might spot one of the hundreds of deer roaming around the park.
There's also an abundance of butterflies, woodpeckers, rabbits and at dusk, you'll also see lots of bats.
At night you'll hear owls and the roar of the stags!
Richmond Park was created by King Charles I in 1620's and there are some historic trees which are said to be 750 years old.
This Royal Park is romantic, charming and one of my favourite places on earth.
Try to get to Isabella Plantation when the rhododendrons and azaleas are out in May.
It is a feast for the eyes, perfect for romance and London Engagement Photo Locations!
Because of its size, it's very easy to escape the crowds (cyclists and even people riding horses!) and head off the beaten track into the wilderness to be alone.
6. Wimbledon Common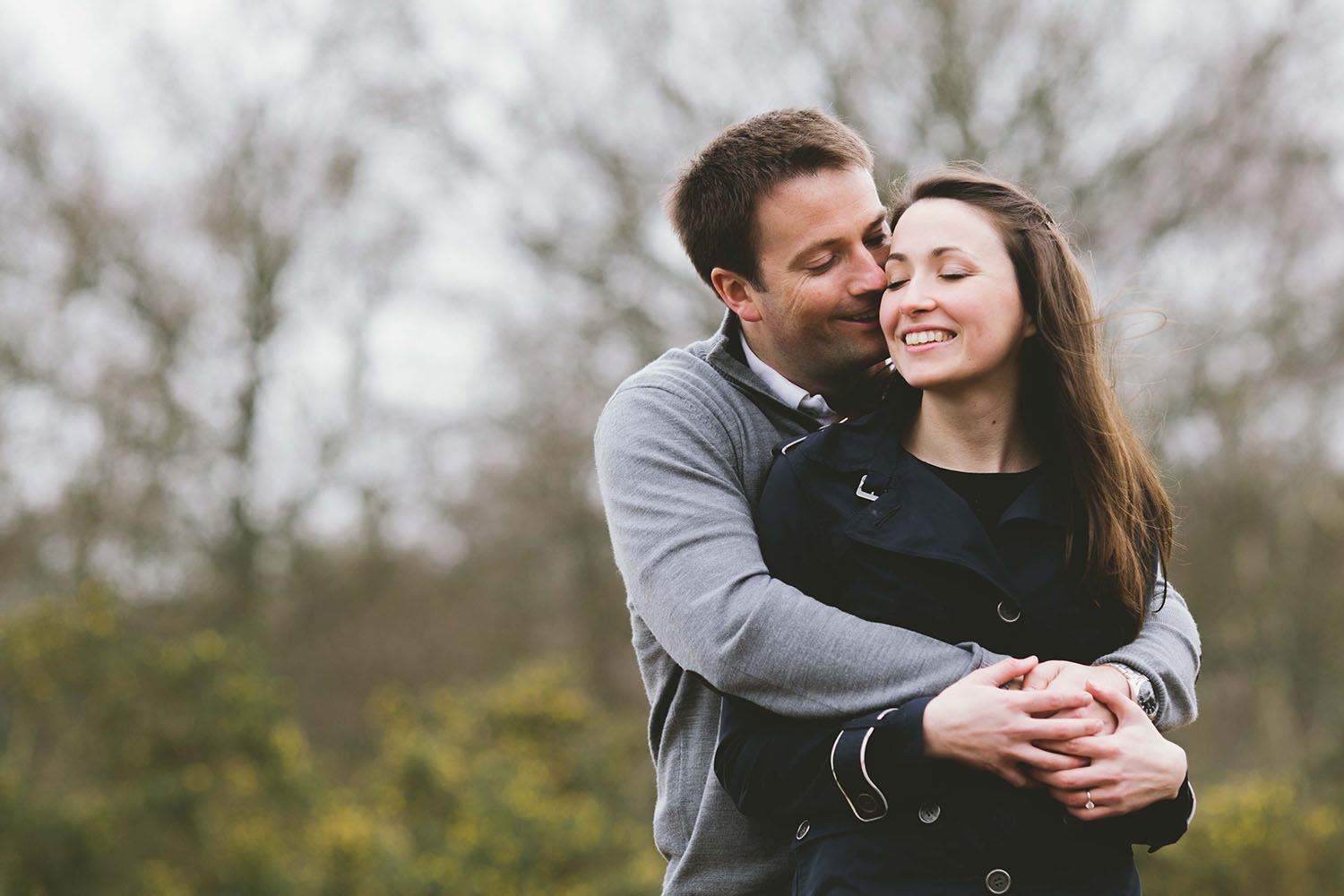 Wimbledon Common is very similar to Richmond Park though it is half the size and much more rugged.
Funnily enough, they sit just across the A3 from each other, so they are virtually neighbours!
At just over 1,100 acres, there's plenty of green space and woodland here to get lost and create lovely pictures.
It's so versatile too and while 30-40 minutes from town, it's almost certainly a contender for London Engagement Photo Locations.
On the eastern side of Wimbledon Common is Putney Heath, heading towards Putney.
This part of the Common feels very rural, almost like the countryside.
There are so many mature trees.
In fact, there's a tree tunnel called The Horse Ride which makes for a nice scene.
Tibbet's Ride is another great setting for couple shots.
As is Rushmere Pond.
Plus there's also Cannizaro Park at the south end of Wimbledon Common.
You could lose a few hours wandering around the Common taking pictures and not even scratch the surface.
It's fair to say that absolutely everyone loves to get engagement photos taken here and deserves to be on this list of London Engagement Photo Locations.
7. Albert Memorial, Kensington Gardens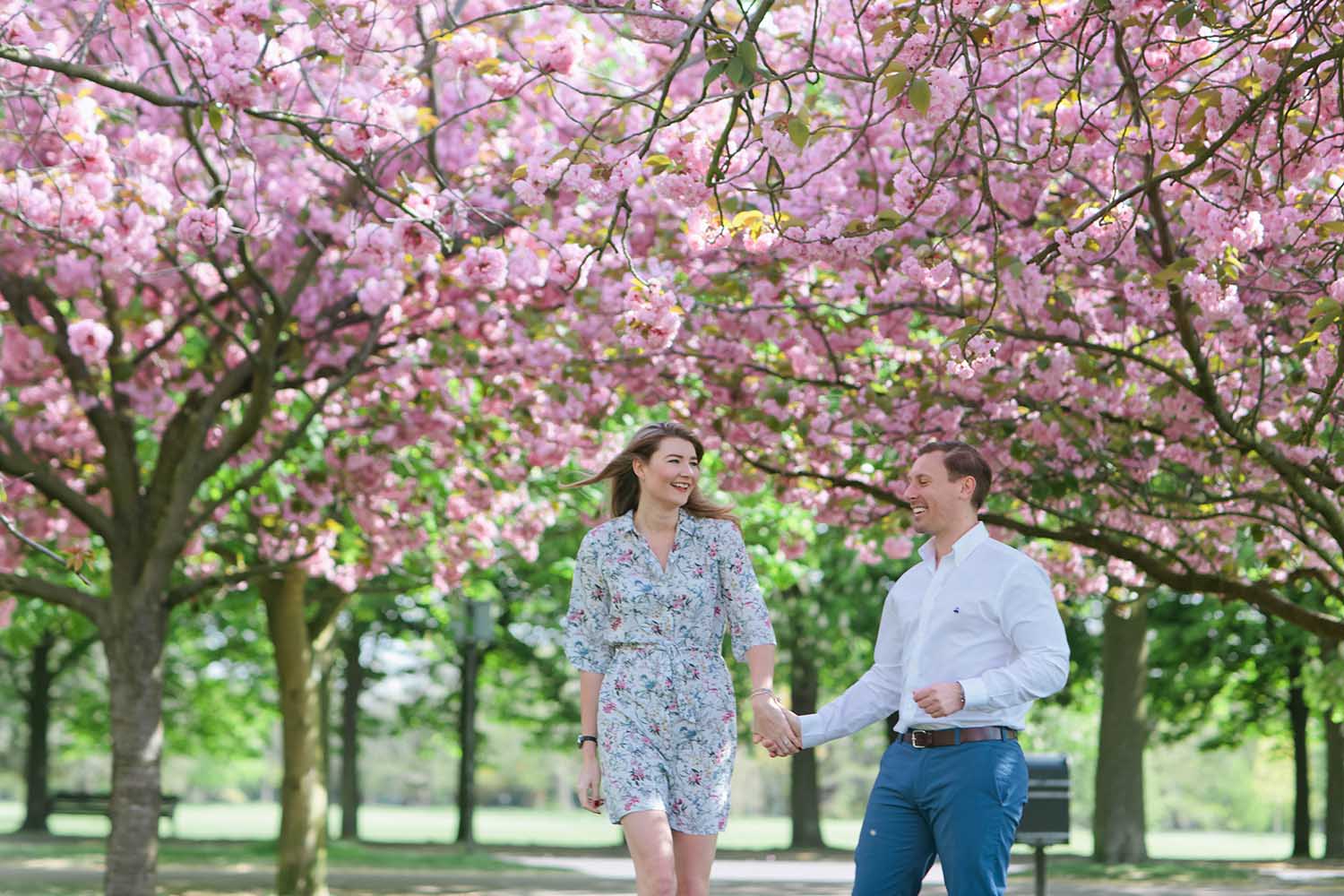 The Albert Memorial in Kensington Gardens is found within Hyde Park.
It is opposite another shrine to Prince Albert, The Royal Albert Hall.
Who was Prince Albert?
He was beloved husband of Queen Victoria and died tragically at the age of 42.
Queen Victoria was heartbroken so commissioned lots of memorials in his memory.
One of which is Albert Memorial, Kensington Gardens.
It sits between Kensington High Street on the south side and West Carriage Drive.
To the west is Kensington Palace, once home of Princess Diana.
In fact, there is a also a memorial to Princess Diana a short walk from here.
To the north is Bayswater Road and the Italian Gardens.
This is another perfect London Engagement Photo Locations and only a walking distance away.
Back to Albert Memorial, if you visit between late March and the middle of April, prepare to be dazzled.
There are dozens of beautiful cherry blossom trees which are very photogenic.
Though, there is a caveat.
Cherry blossom have become extremely popular with tourists for photos.
So, I would advise having your photos here pretty early in the morning to avoid the army of Instagrammers!!
8. Regent's Park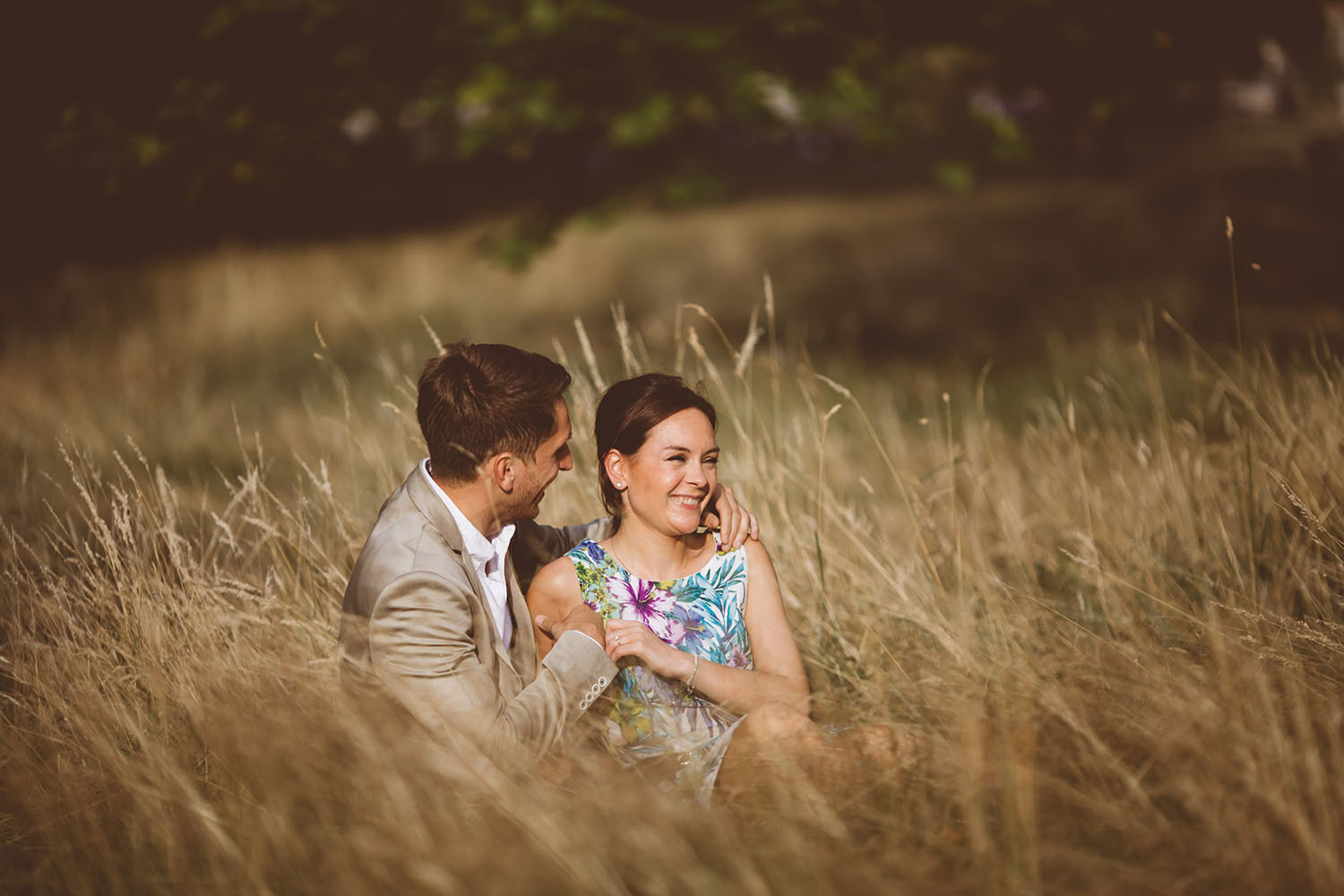 Regent's Park is a magnificent park, is another one of London's eight Royal Parks and a much deserved number eight on my list of Engagement Photo Locations.
The beauty of Regent's Park is its location.
The park is walking distance from Primrose Hill to the north, with incredible views across the city.
To the north is also London Zoo if you fancied some zoology!
And to the north east is Camden Town for shopping, bars and restaurants.
If you head north west, you will be lucky enough to see the barges floating down the water at Regent's Canal.
When they arrive in Regent's Park, most couples head to Queen Mary's Rose Gardens for photos.
Here you will find the most tranquil surroundings with lush grounds, shrubberies, several bridges and beautiful water features.
Come to Regent's Park in the summer if you want to take advantage of the flowers, especially roses.
Apparently more than 12,000 roses were planted here making it the largest rose collection in the capital.
You'll also be able to catch delphiniums and begonias but you are best to come in June for the full bloom.
Although the autumn and winter is also a great time to visit as it's much quieter and green too.
As Engagement Photo Locations London go, this gorgeous place is overlooked and I think worth a look.
9. Big Ben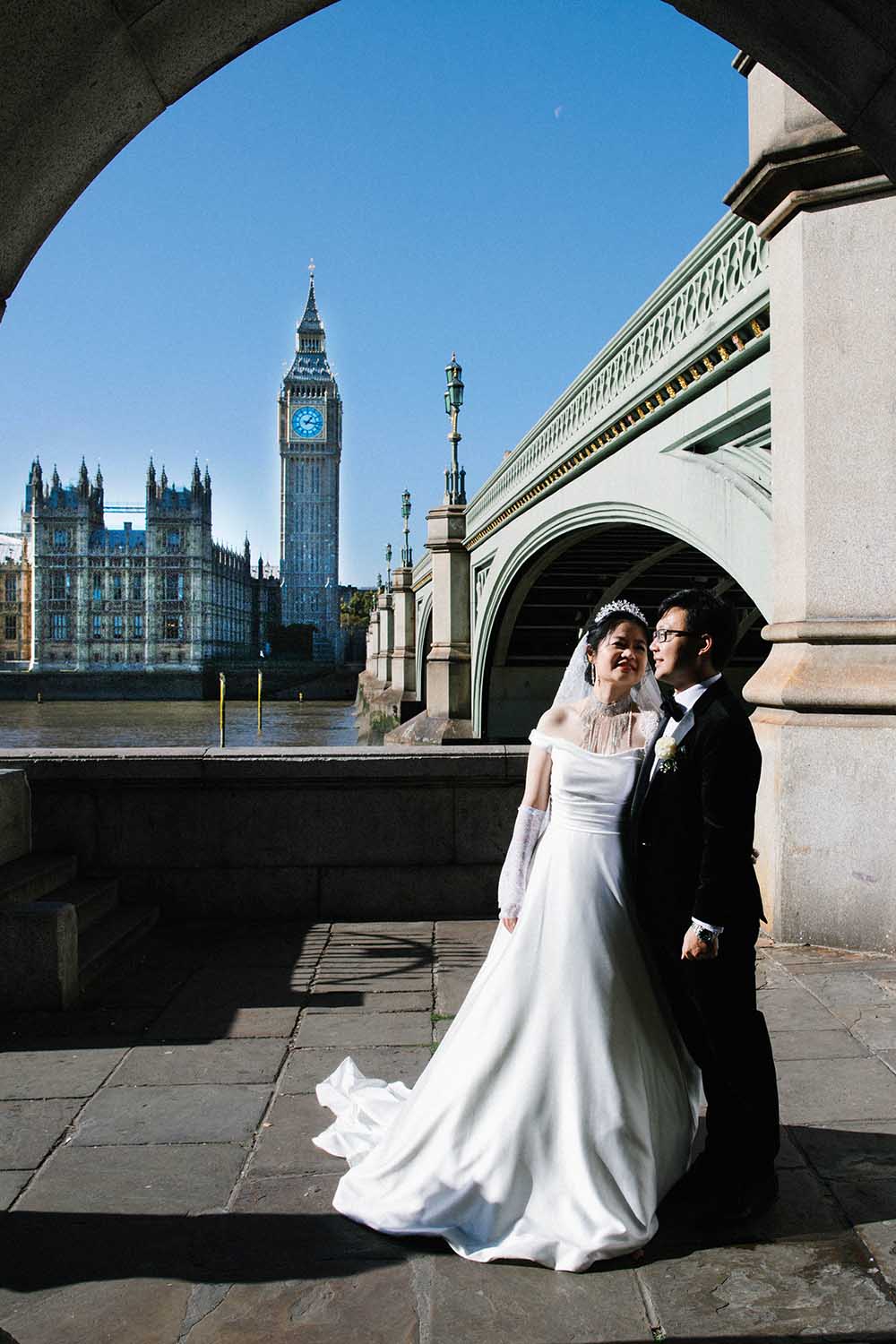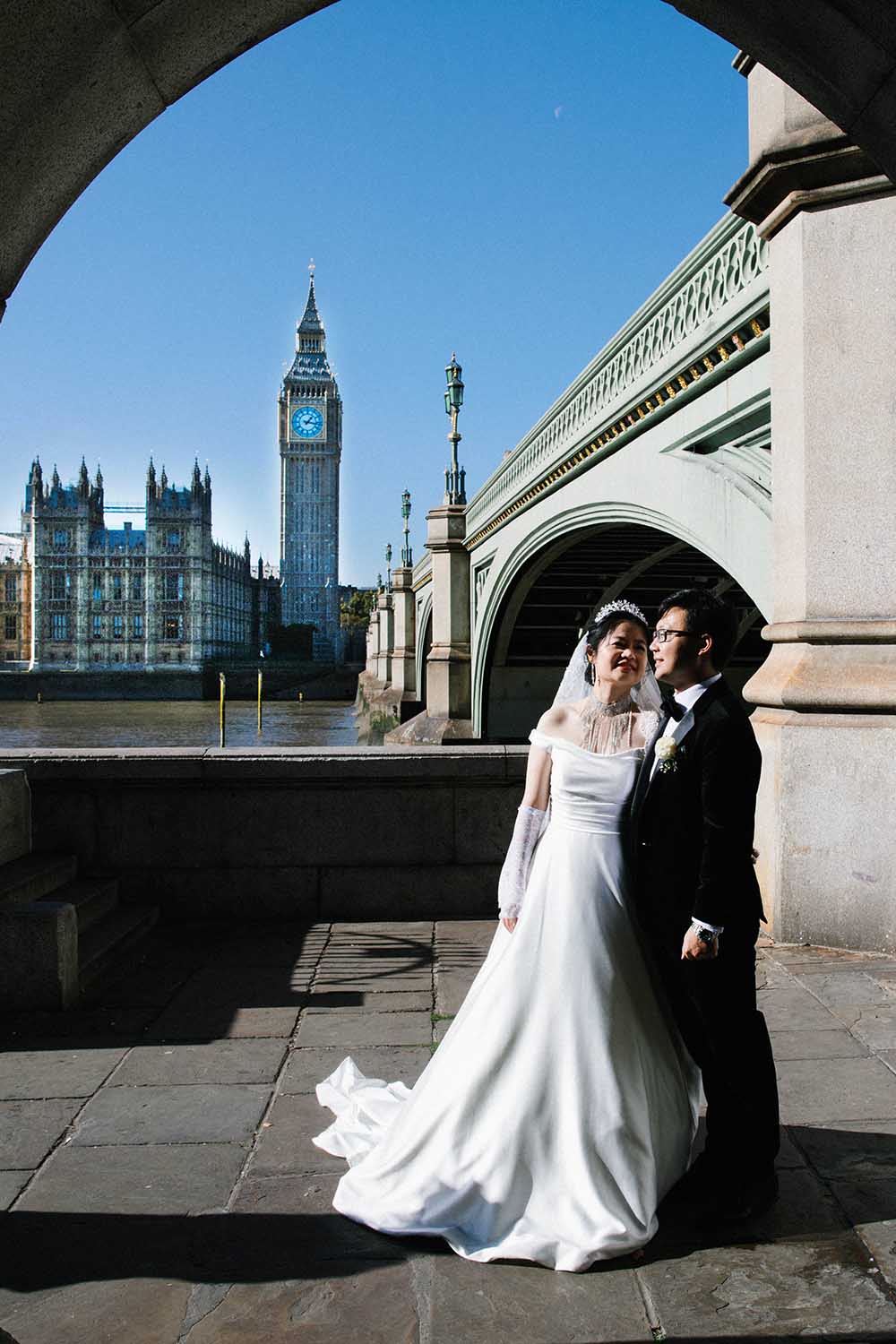 Big Ben!
A list of London Engagement photo locations list would be incomplete without the most famous clock tower in the world, Big Ben.
Everybody loves coming here to see the famous face, to have a picture or two in front of it.
Of course, Big Ben is just a nickname.
The name given to it originally was The Great Bell of The Great Clock of Westminster.
That was a bit of a mouthful, so eventually it was shortened to Big Ben in honour of the man who oversaw its construction, Sir Benjamin Hall.
In 2012, it was re-named Elizabeth Tower in 2012 to commemorate Queen Elizabeth's Diamond Jubilee.
Although of course, everyone across the globe refers to it simply as Big Ben.
It is possibly one of London's most beloved landmarks.
It was built in 1859 and stands 316 feet high.
By all accounts, the bell itself weighs a staggering 13 tonnes!!
Coincidentally, it is yet another UNESCO World Heritage Site on this list!
Anyhow, the views of this beautiful building across the Thames are breathtaking.
It's situated next door to the Houses of Parliament and a short walking distance from another London legend.
The London Eye.
The Eye could possibly be another contender for London Engagement Photo Locations although it's a bit busy for my liking, all year around.
10. Hyde Park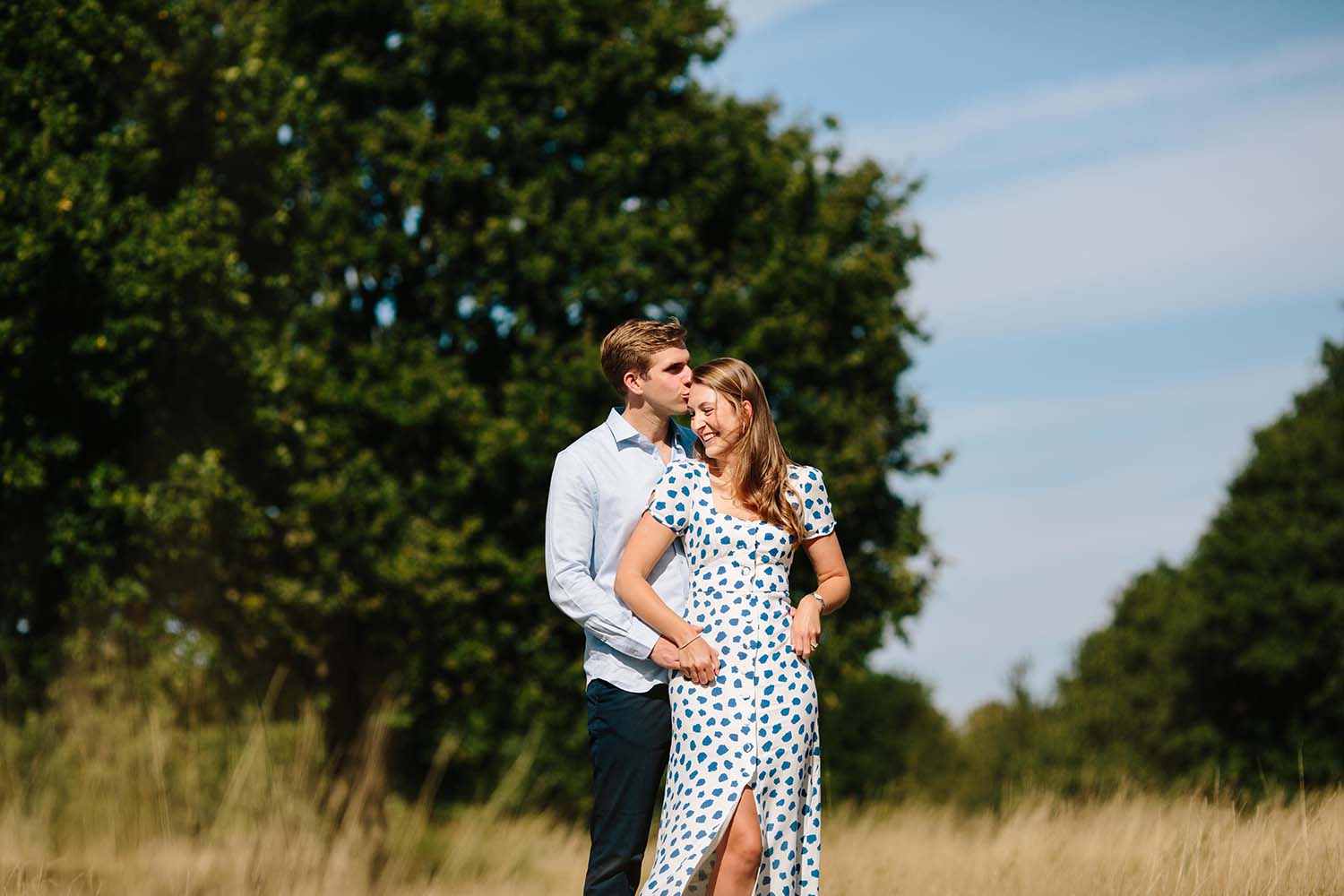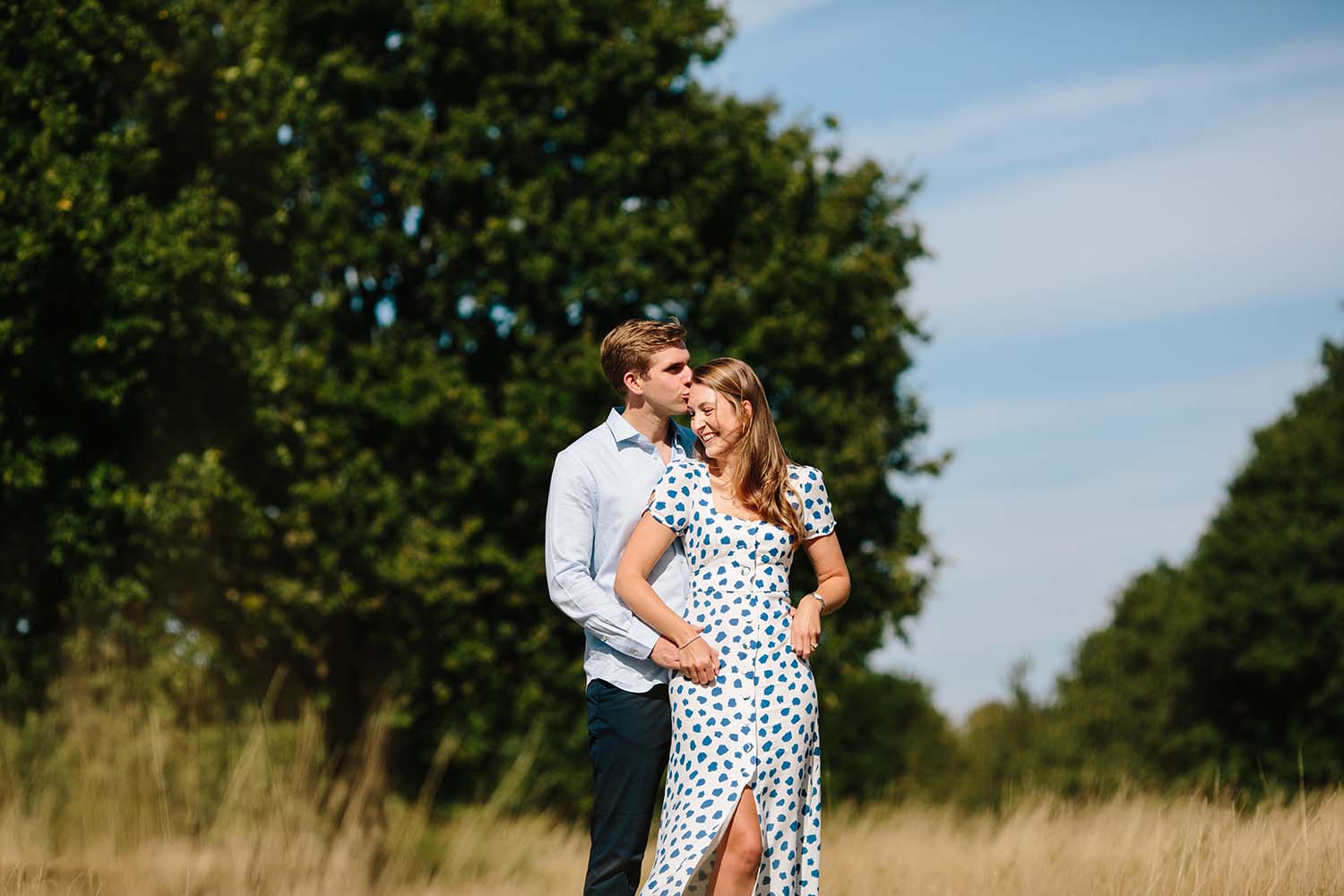 Hyde Park, a magnificent Grade I listed Royal Park lying in Westminster.
As I've already mentioned, within Hyde Park are Kensington Gardens though there are no official boundaries to separate the two parks.
Set in 350 acres, Hyde Park is a beautiful large parkland, originally created in 1536 by King Henry VIII for the purposes of hunting.
As you walk around this park, it's hard to believe you're in central London.
It feels like you're in the middle of the countryside.
There are people on horseback, playing tennis, cycling, swimming as well as boating.
The Serpentine lake in the middle of the park is a romantic spot for photos for an engagement shoot and ideal for London Engagement Photo Locations.
Or even for a weddings.
I've come here many times in the past with my bride and groom for post ceremony piccies.
Just so you know, access to Hyde Park is generally via Alexandra Gate or Victoria Gate.
11. St James's Park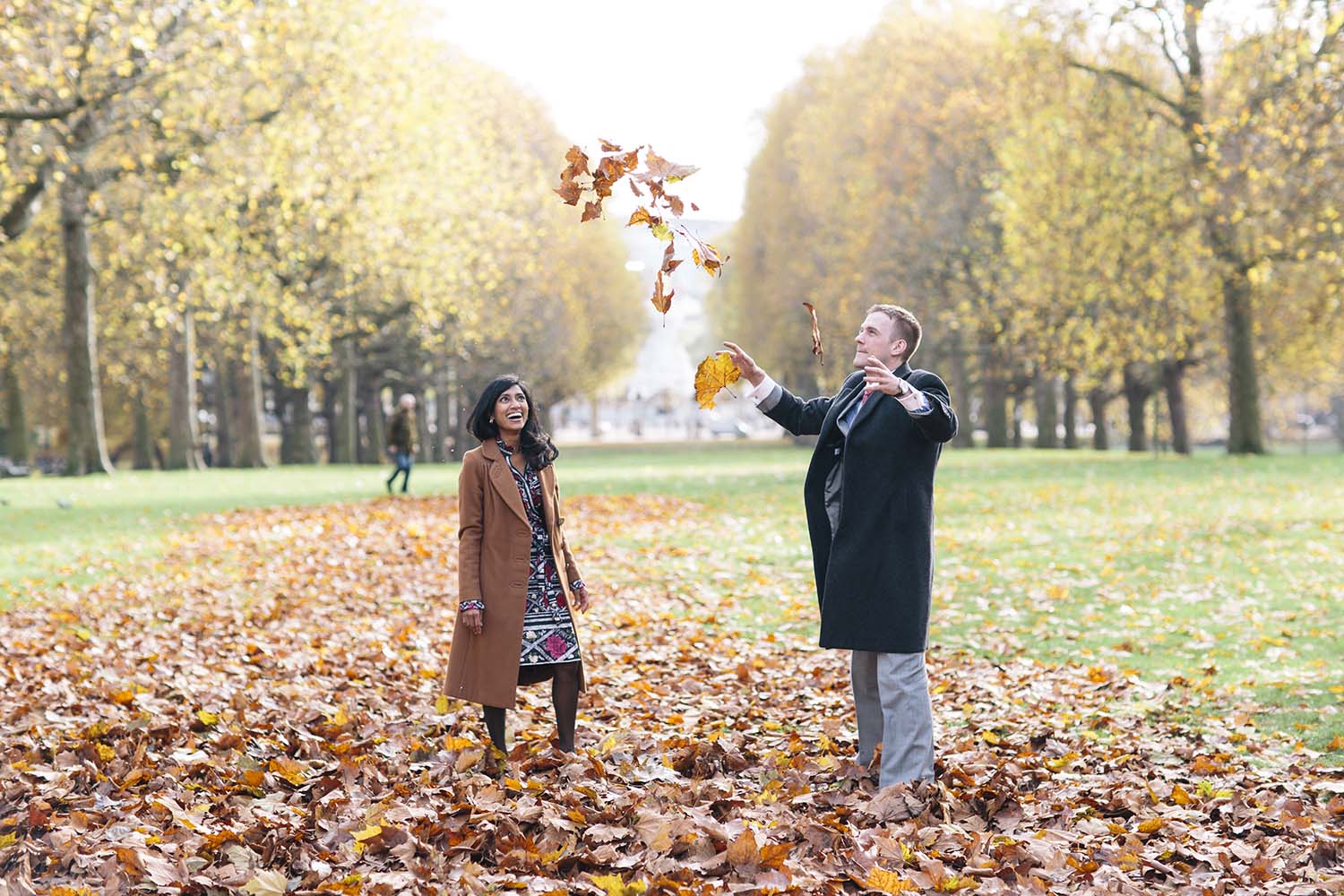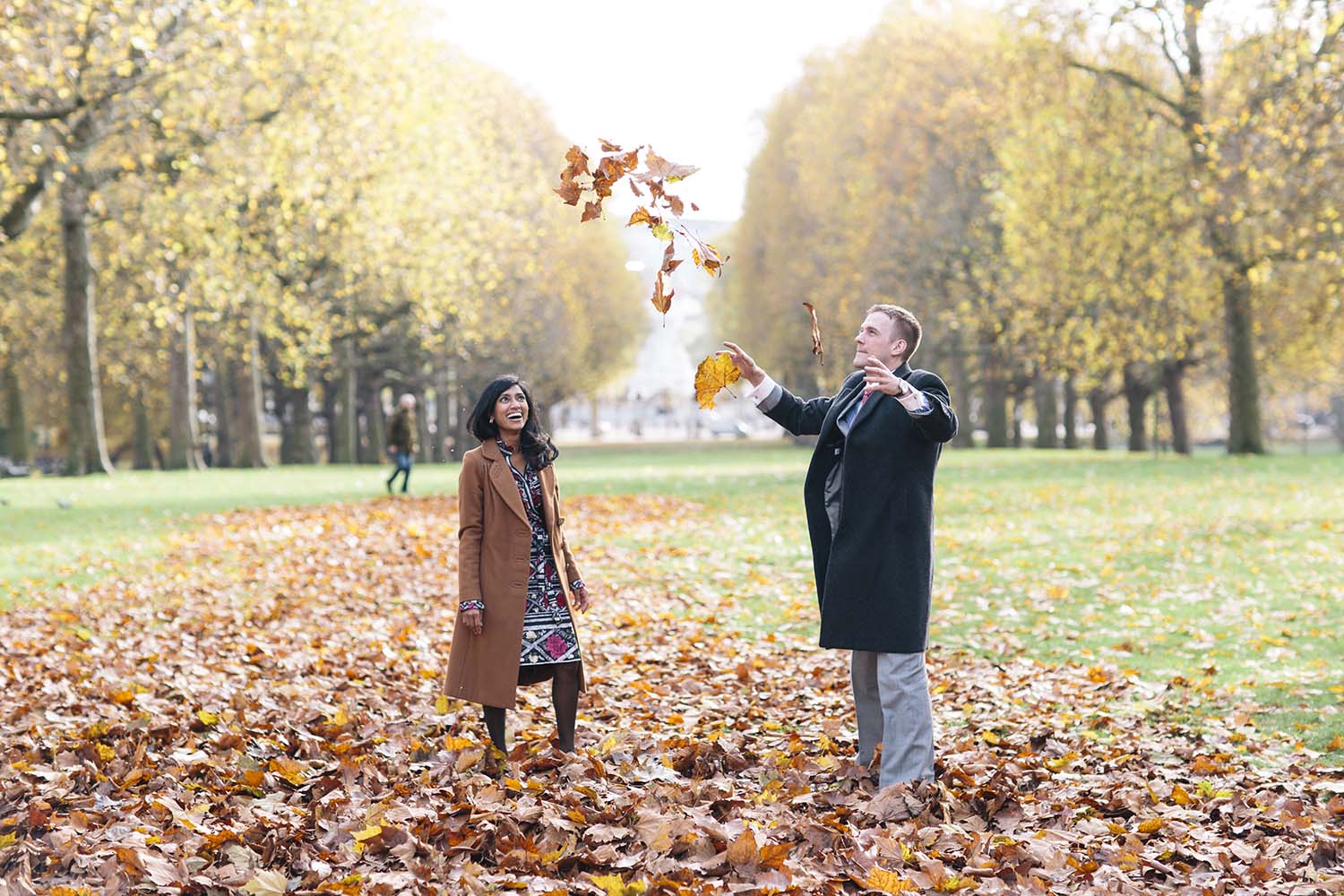 St James's Park is a lovely little park, a hop skip and a jump from Buckingham Palace in the heart of Westminster and deserves to be an Engagement Photo Locations London.
It is home to 57 acres and the famous St James's Lake which always seems to be alive with ducks and geese!
To the north of St James's Park is The Mall while Horseguards is to the east.
Heading south is the infamous Birdcage Walk.
Another palace is nearby too.
That of St James's Palace, which sits on The Mall.
On a good day, it's possible to look eastwards and catch a glimpse of the London Eye.
I love to come here in the autumn when the leaves are falling.
It's one of the most best locations for photoshoot.
There are so many beautiful old trees, almost all of which lose their leaves, which is another firm favourite for London Engagement Photo Locations pictures.
---
Contact
So that is it for today.
The list above of London Engagement Photo Locations is certainly not an exhaustive list.
It is simply a curated selection of my favourite London Engagement Photo Locations that I've photographed over the years.
So, are you newly engaged or planning an engagement shoot over the coming months and looking for outdoor photoshoot locations near me?
To arrange a booking or to discuss alternative London Engagement Photo Locations or pre wedding photos, please contact me.