Low Fidelity Wedding In Berlin
❤️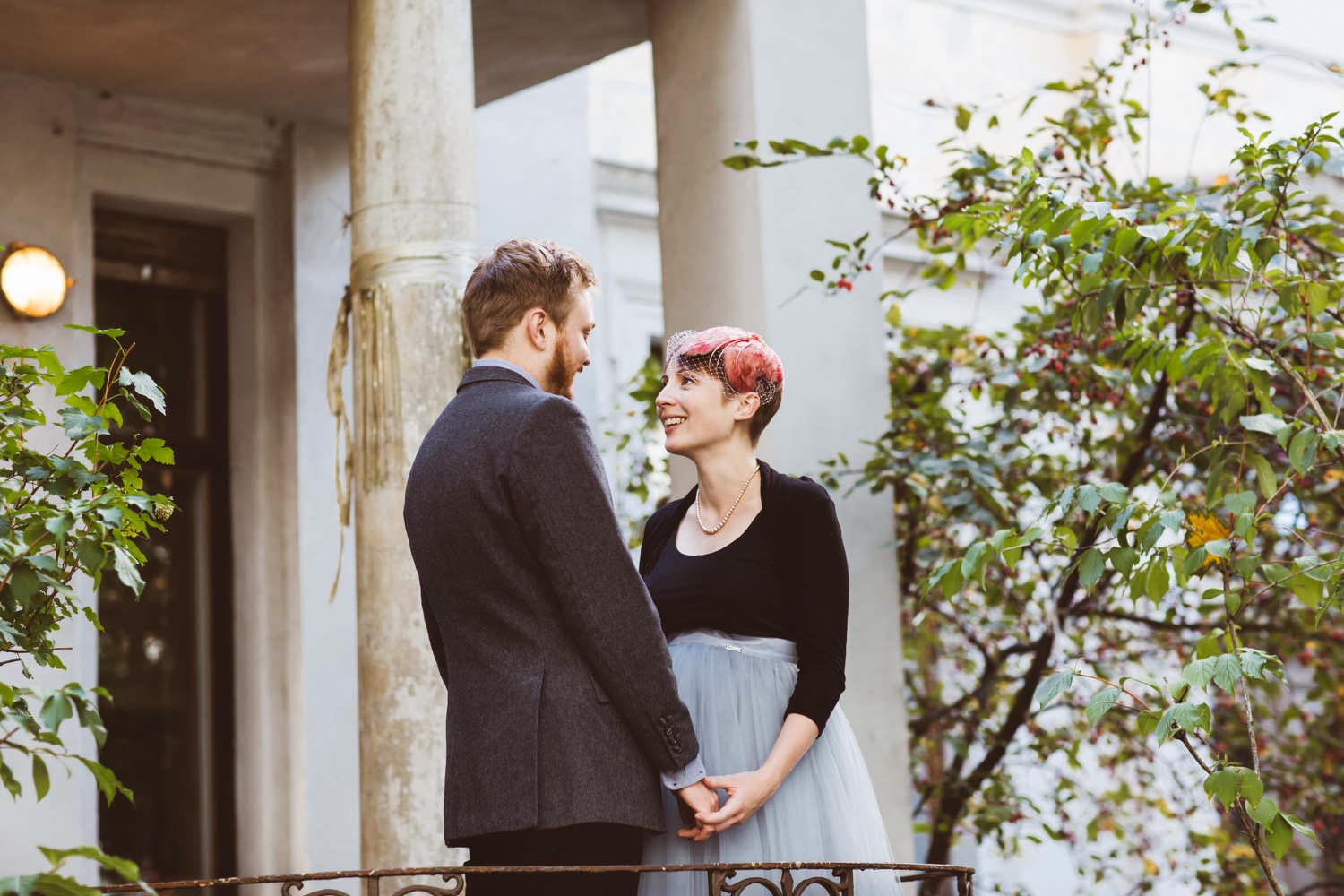 Low Fidelity Wedding In Berlin
It's hard to know where to start with Fran & Timo's beautifully authentic lo-fi wedding. Originally from the UK, Fran & Timo upped sticks to Berlin where they have created a new life for themselves. So when it came to the idea of tying the knot, they decided that it best to do it there, in the heart of Berlin.
But from the beginning they made it clear to me that they didn't want a traditional wedding. Fran & Timo were planning something very different. It would be lo-fi and as far from traditional as you can possibly imagine. Their vision was that the day would be relaxed, informal, straightforward and as simple as possible.
They'd ditched an official person to marry them, giving that role to Timo's brother. But before that came cocktails in a park around the corner from their home. Timo and his best man made the cocktails themselves. In fact, practically everything about this gorgeous little Germanic wedding was DIY and entirely home made.
Bride Fran even made her own wedding cake at her hen do with all her girlfriends!! How cool. Fran and her hens also created more than one hundred frosted cupcakes. What's more, Fran even sewed more than forty metres of bunting herself to adorn the wedding venue, Cafe Eden on Breite Str in Pankow. Fran also made the F&T branded signage. is there no end to her talents!?!?!?
To add to the unconventionality of their wedding, Fran was six months pregnant which meant choosing a dress was even trickier than ever. So Fran went ditched the wedding dress for a 50's inspired tulle skirt instead.
Everything about Fran & Timo's day perfectly sums up their spirit and integrity. F&T did everything exactly as they wanted and I felt tremendously privileged that they chose me to capture their special and utterly unique day. Fran & Timo grabbed unconventionality with both hands and embraced it and for me, that is kind of wonderful.
Thank you F&T so much for having me along for the ride. Sam and I loved jetting into your beautiful city, Berlin. It was a weekend that we will never forget. Oh and this wedding was featured on the very brilliant Rock and Roll Wedding blog.
VENDORS//
CAKE: FRAÜLEIN WILD'S BAKERY 
VENUE: CAFE EDEN
FLORALS: BLUMENBETT
DONUTS: BRAMMIBALS
BRIDE'S SKIRT: FREESHION
BRIDESMAIDS: & OTHER STORIES