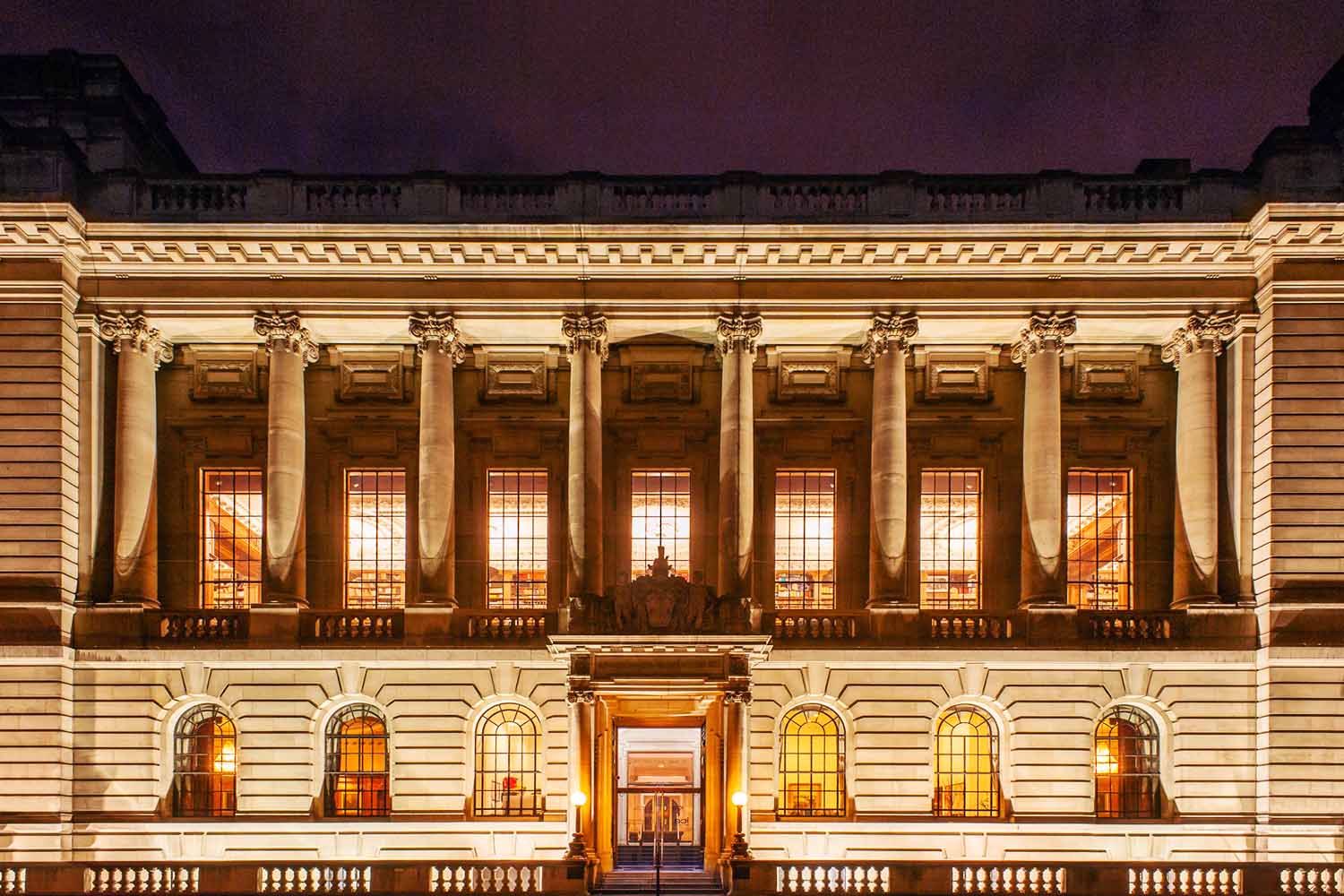 Top 10 Luxury Wedding Venues in London
As a London wedding photographer who happens to have photographed more than five hundred weddings, I'm familiar with most if not all the luxury wedding venues throughout the Capital and far beyond!
There's no question that a wedding venue can transform your wedding photos, taking them to a whole new level.
The right space will very much dictate the whole mood of the day.
There are other considerations including lighting.
Whether that's natural window light, candles or ceiling/wall lights.
Other points to consider are the tone, interiors and even the composition for your moments captured.
It sounds fussy, but these are all crucial points to contemplate.
I practice my craft by creating experiences with beautiful pictures.
These images aim to transport you back in an evocative way.
The imagery will be authentic, heartfelt and emotive.
The idea being that you are deeply moved.
That you're able to relive your wedding day for the rest of your life together.
It's universally agreed that a fabulous wedding venue can assist in making your wedding design dream come to life.
So without further ado, let's kick off my top 10 luxury wedding venues in London with our first and it's one of my favourites.
1.) Natural History Museum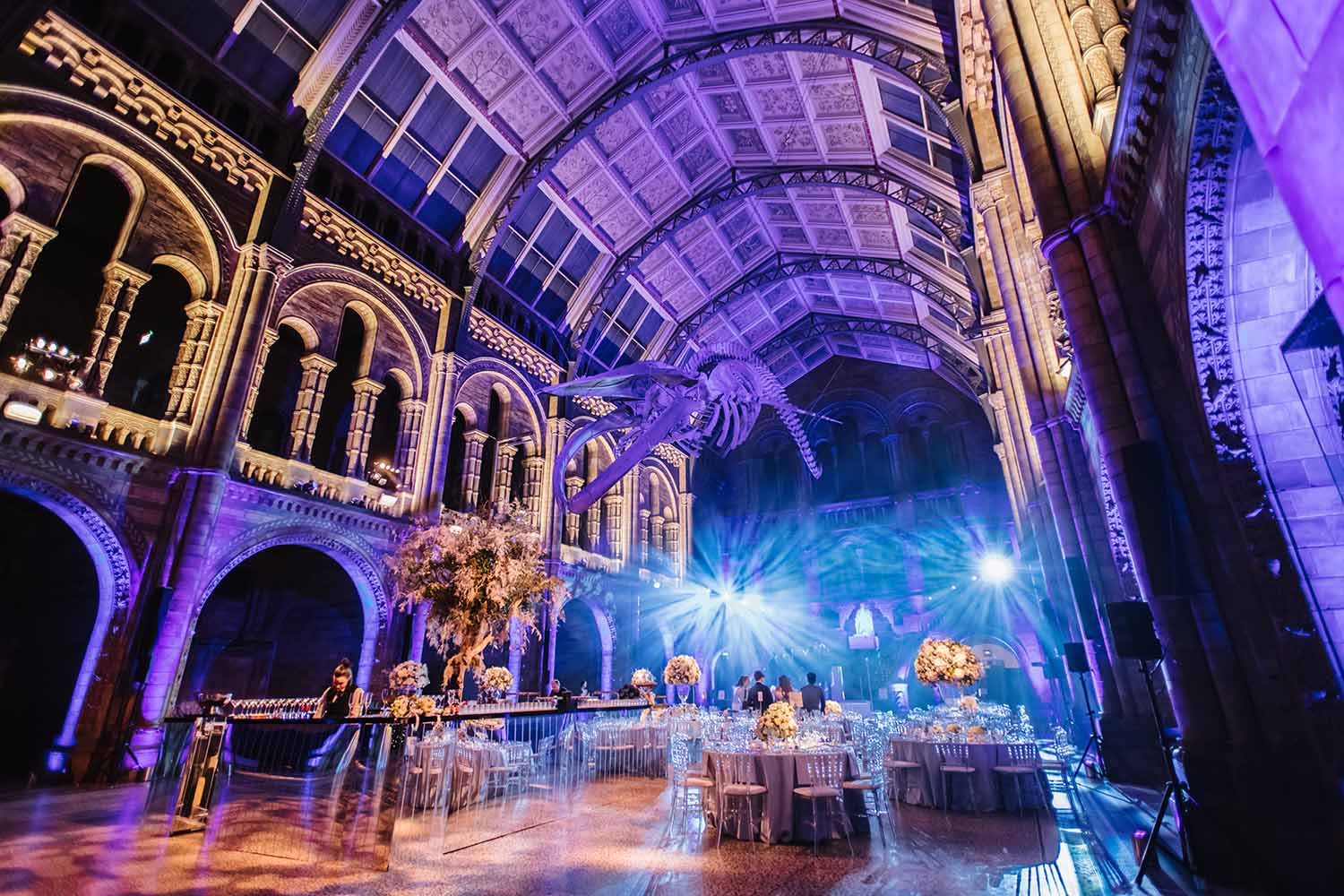 A Top Ten Luxury Wedding Venues in London wouldn't be complete with this.
A hidden gem and an incredible place to have a reception and of course it's none other than Natural History Museum on Exhibition Road.
A truly breathtaking venue in South Kensington, it is most possibly a favourite venue of mine.
It's extraordinary to think it is transformed from a museum during the day to a world class wedding and event space.
Vendors love coming here and planners adore this place because the backdrop is so expansive that literally anything seems to work.
Seeing a bride walking down the aisle of the main Hintze Hall takes my breath away.
Especially with the blue whale skeleton suspended from the ceiling behind her!
Genuinely, it's out of this world.
Feel free to check out a blog post and slideshow with this epic venue right here at Wedding Photography Natural History Museum.
2.) One Great George Street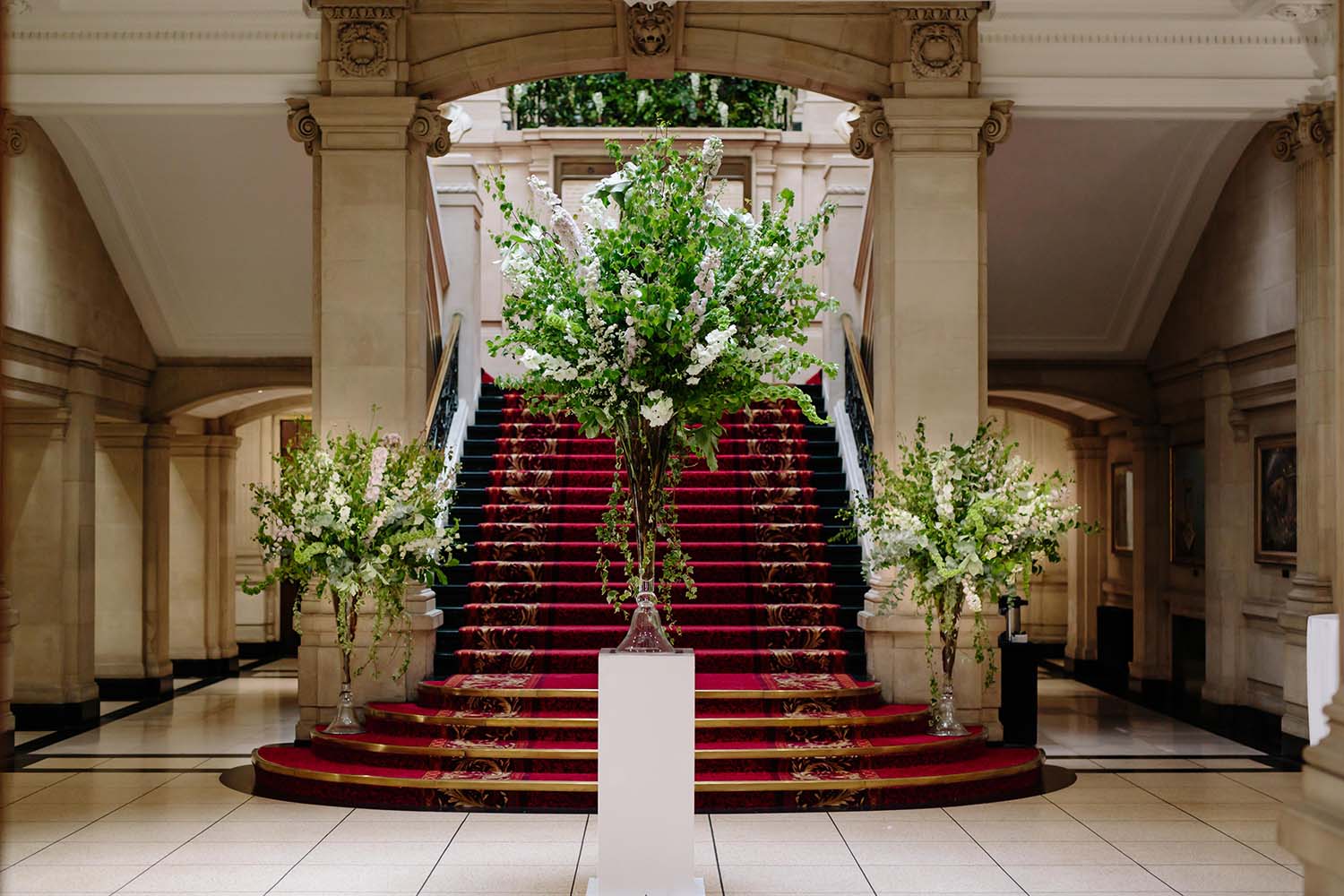 One Great George is a beautiful, Grade II listed Edwardian gem.
It has prestige but also boasts being in a fantastic location.
It is moments from three of the most famous landmarks in the world.
Big Ben, Buckingham Palace and Westminster Abbey.
It doesn't get much better than that.
This venue is vast and offers the luxurious wedding packages.
As the name suggest, it's actually situated on Great George Street, off Birdcage Walk.
The design is neo-classical.
It was constructed in 1910, making it Edwardian architecture.
By day, it serves as the global headquarters of the Institute Of Civil Engineers.
Genuinely, there aren't many wedding venues London can better than One Great George Street.
There are a staggering twenty one function rooms with the centrepiece being the Great Hall.
The hall can comfortably host four hundred standing guests for cocktail parties, or 220 seated guests.
The two enormous crystal chandeliers hang from the beautiful 13 metre high panelled ceiling.
There are also full length picture windows which allow plenty of natural light, marble columns and acres of gold leaf.
The Smeaton Room is also a beautiful room and can comfortably hold 150 guests for a ceremony.
For more intimate affairs, there's the Brunel Room.
The sweeping staircase on the ground floor is a thing of beauty.
Since its inception, this building has played host to some of London's highest profile glitzy events and parties in the world.
Hollywood films have been shot here too.
And remarkably, UNESCO signed their first charter here in 1945.
If you're thinking of hosting your wedding at this terrific venue in London, I recommend you add it to your list.
You too could create your own piece of history and host your special wedding here.
I enjoyed my time photographing at One Great George Street as a London wedding photographer.
3.) Claridge's Hotel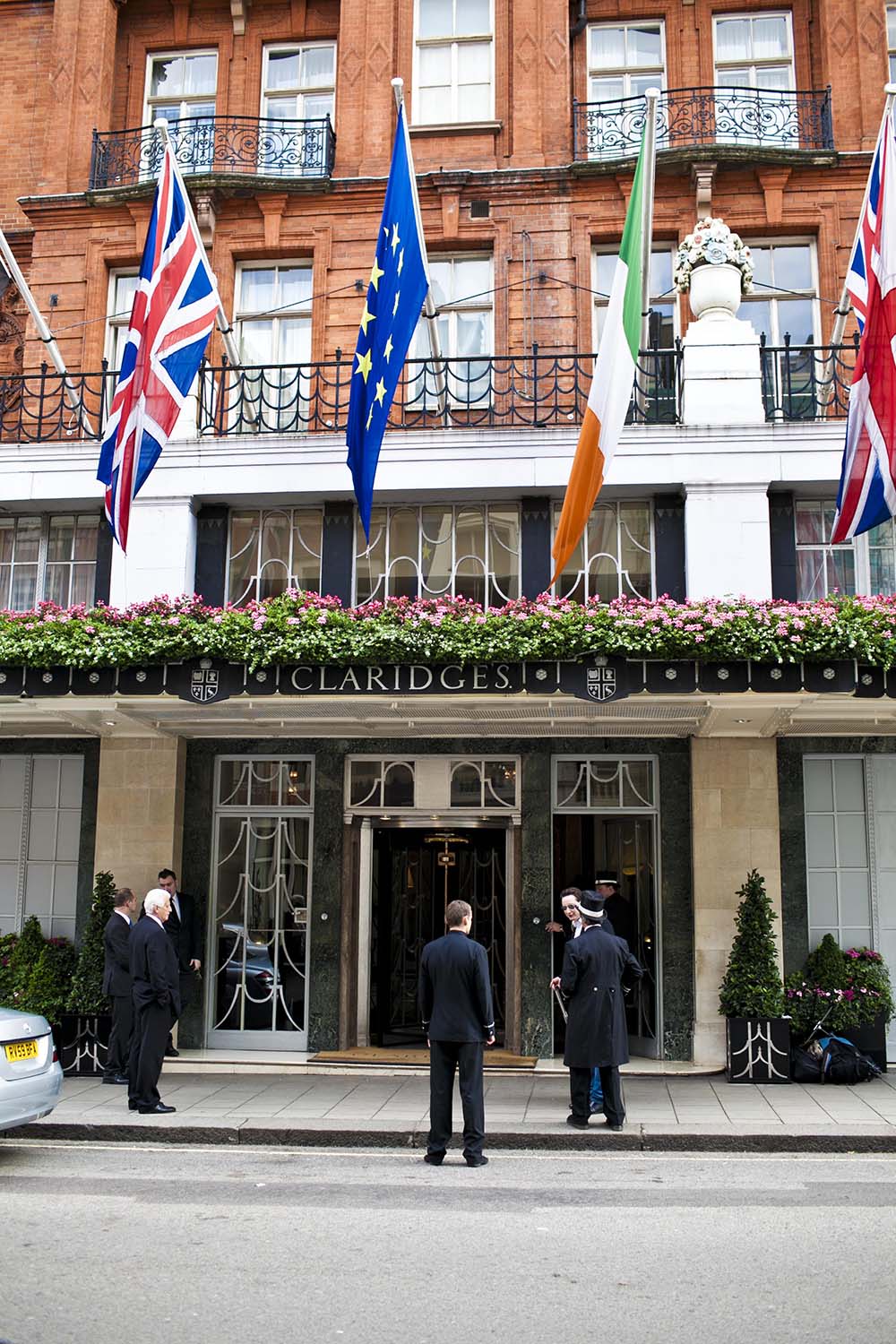 On the subject of stylish and graceful wedding venues London has to boast, Claridge's Hotel would probably be pushing towards the top of a list like this one.
Situated on Brook Street within Mayfair's heart, this gorgeous venue offers Art Deco architecture unlike any other.
This 5 star hotel has played host to some of the most glittering parties ever to take place in London, stretching back more than a century.
This wedding venue also has long standing royal connections and it's not hard to see why.
Global heads of state have been frequenting the hotel for good reason.
It is probably the most chic, glamorous and decadent hotel in the city.
And, the food is beyond compare.
The restaurant has a Michelin star and let's face it.
This is not the kind of fine dining experience you expect to eat at a wedding.
How about oysters for starters?
Lobster Wellington for main?
As wedding experiences go, your guests will most certainly be thanking you for inviting them!!
4.) The Lanesborough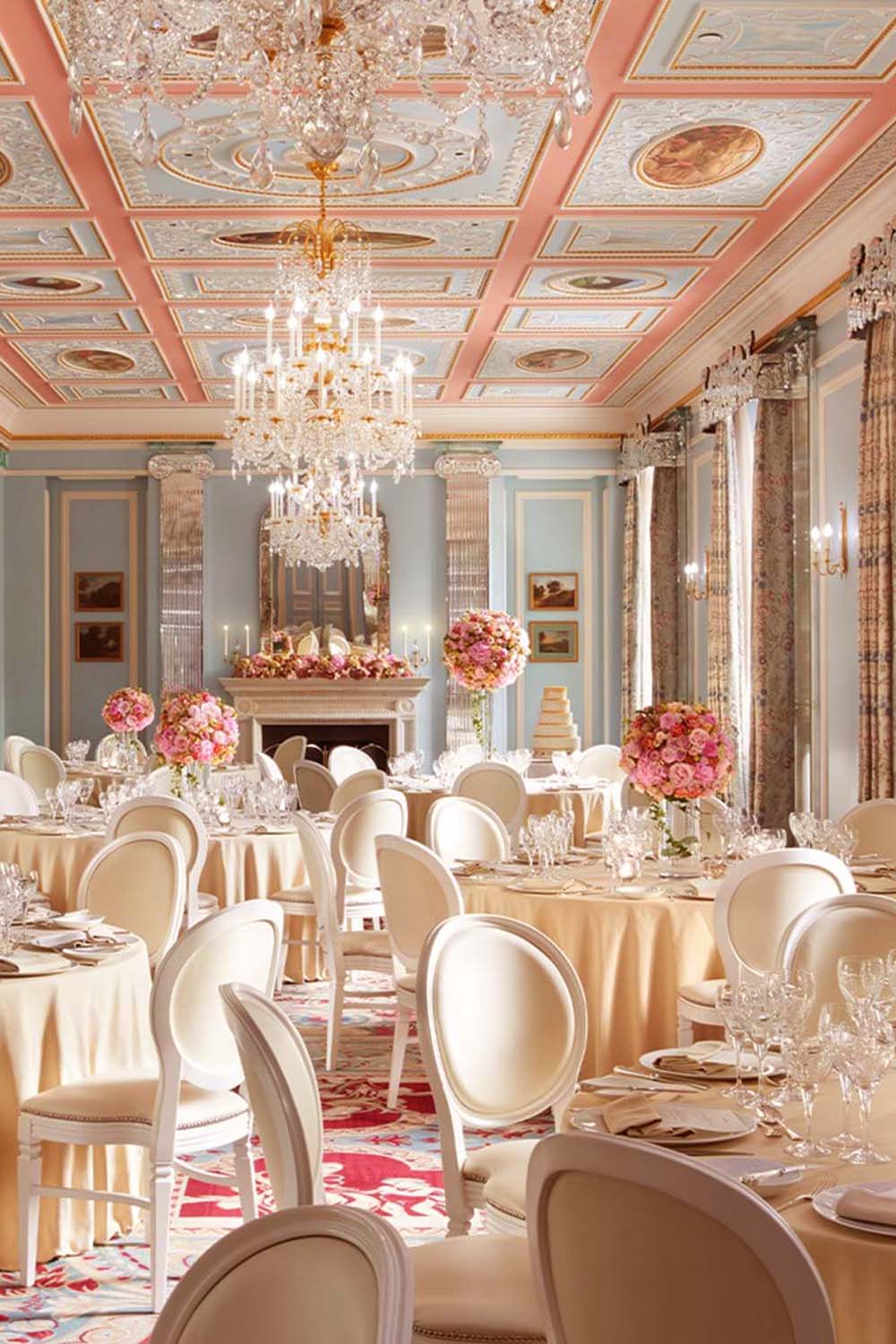 Moments from both Hyde Park and Park Lane, this venue melds contemporary luxury with classical interiors whilst also boasting incredible views across London.
Situated at Hyde Park Corner in Knightsbridge, this beautiful Regency building is a thoroughly stylish wedding venue.
Modern luxury at its finest, with 93 suites, this is the perfect wedding venue for your guests wishing to stay over and make a weekend of it.
There are seven private reception and ceremony rooms, large enough to accomodate a party or event for 250 guests.
This venue has multiple private rooms for civil ceremonies as well as spaces to entertain for the large party if needed.
The famous blend of English elegance and contemporary interiors on offer here, makes for a potentially perfect setting for your wedding.
5.) The Dorchester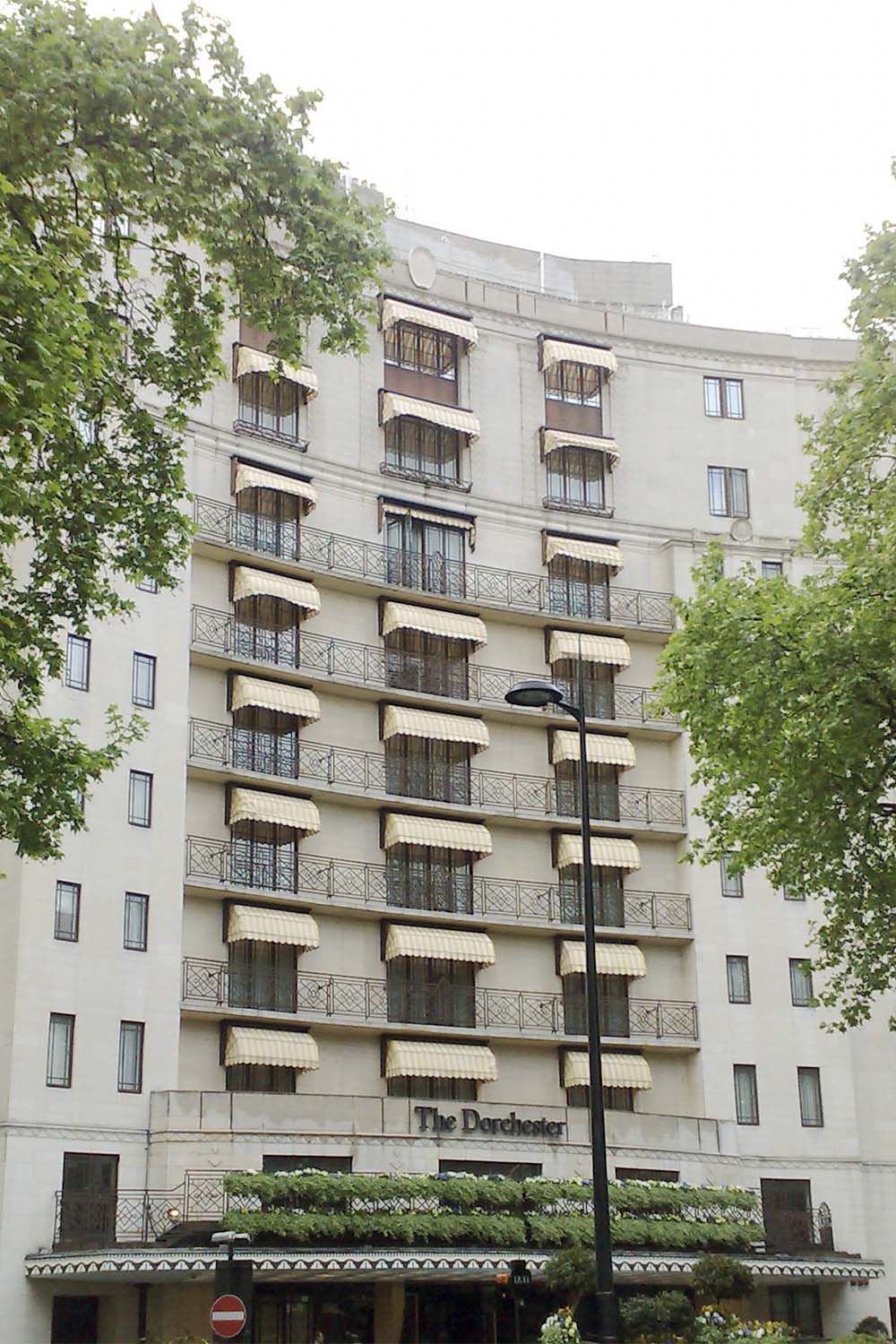 Do you fancy the idea of getting married in one of the most iconic and celebrated of hotels?
If so, why not consider The Dorchester on Park Lane?
It's an illustrious venue where some of London's largest and most opulent weddings have taken place.
A luxury 5 star hotel where everything seems to presented at the most spectacular scale.
This Mayfair venue oozes glamour and decadence.
It's the perfect place to hold lavish events, large scale weddings as well as post ceremonial party cocktails.
6.) One Whitehall Place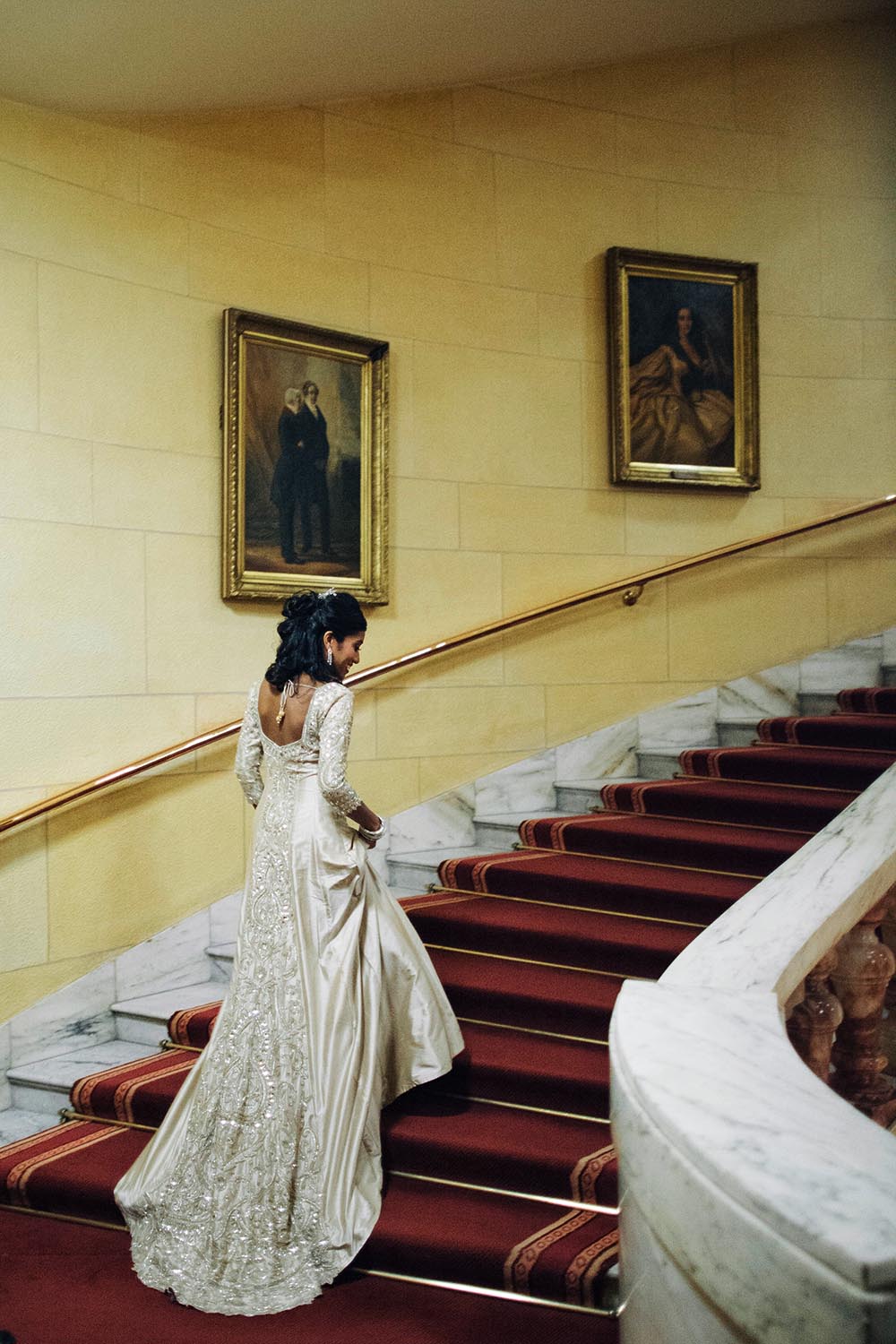 If you are on the hunt for a prestigious wedding in Westminster, be sure to look up One Whitehall Place.
Also known as Royal Horseguards Hotel, this is an exquisite 5 star hotel.
As the name helpfully suggests, it is located at 1 Whitehall Place, off the famed road simply called Whitehall.
If you are not familiar with the name of this road, let me fill you in.
It is a short walk from one of the City of London's most famous landmarks.
10 Downing Street, world renowned home of the British Prime Minister.
The venue is nestled between Southbank and Waterloo on the south side of the River Thames and Soho, and Charing Cross on the north side.
It is only a short walk from The Houses of Westminster.
The stunning architecture of this Victorian venue continues to fascinate to this day.
Amongst many features, there's a sweeping marble staircase, huge antique chandeliers and the most ornate of ceilings.
With regards to the wedding venues London has to offer, One Whitehall Place would have to be one of the finest in Westminster.
If you're wondering where to capture couple shots outdoors at One Whitehall Place, the nearby roads are the perfect backdrop.
There is an abundance of white stucco fronted architecture nearby.
The River Thames is well within walking distance.
Additionally of course there is The Embankment, which always makes for majestic views across London.
7.) Hotel Café Royal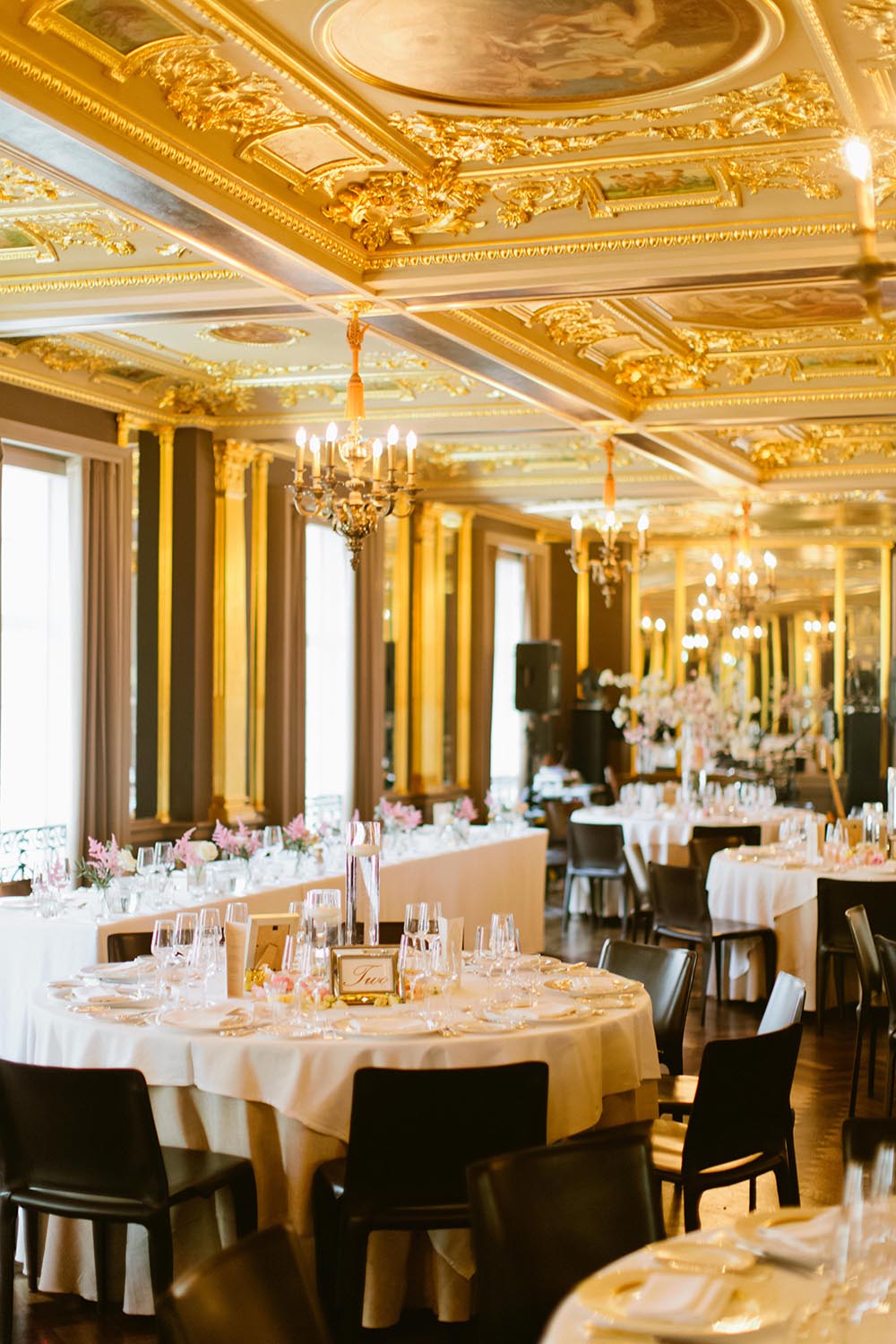 Hotel Café Royal is a celebrated hotel and wedding venue, with more than 150 years of history behind it.
Sat towards the bottom of Regent Street, it is perfectly located in the heart of Soho, Mayfair and St James'.
Hotel Café Royal is the ideal destination for chic couples looking to celebrate their wedding day in the city.
The interiors are opulent and seem to come together so effortlessly.
Luxuriate in a stately, decadent setting famed for its celebrity patrons.
Celebrities including Princess Diana, Oscar Wilde, Noel Coward, Winston Churchill, Virgina Woolf and David Bowie to name but a few.
Unsurprisingly, the famous 'Ballroom' is Grade II listed.
The room features delicate cornices and the most gorgeous gilded ceiling frescos.
The Pompadour Room is also breathtaking.
One look inside this landmark venue will captivate you.
The cocktail menu on offer here is legendary.
The food is exquisite too.
8.) The Ritz London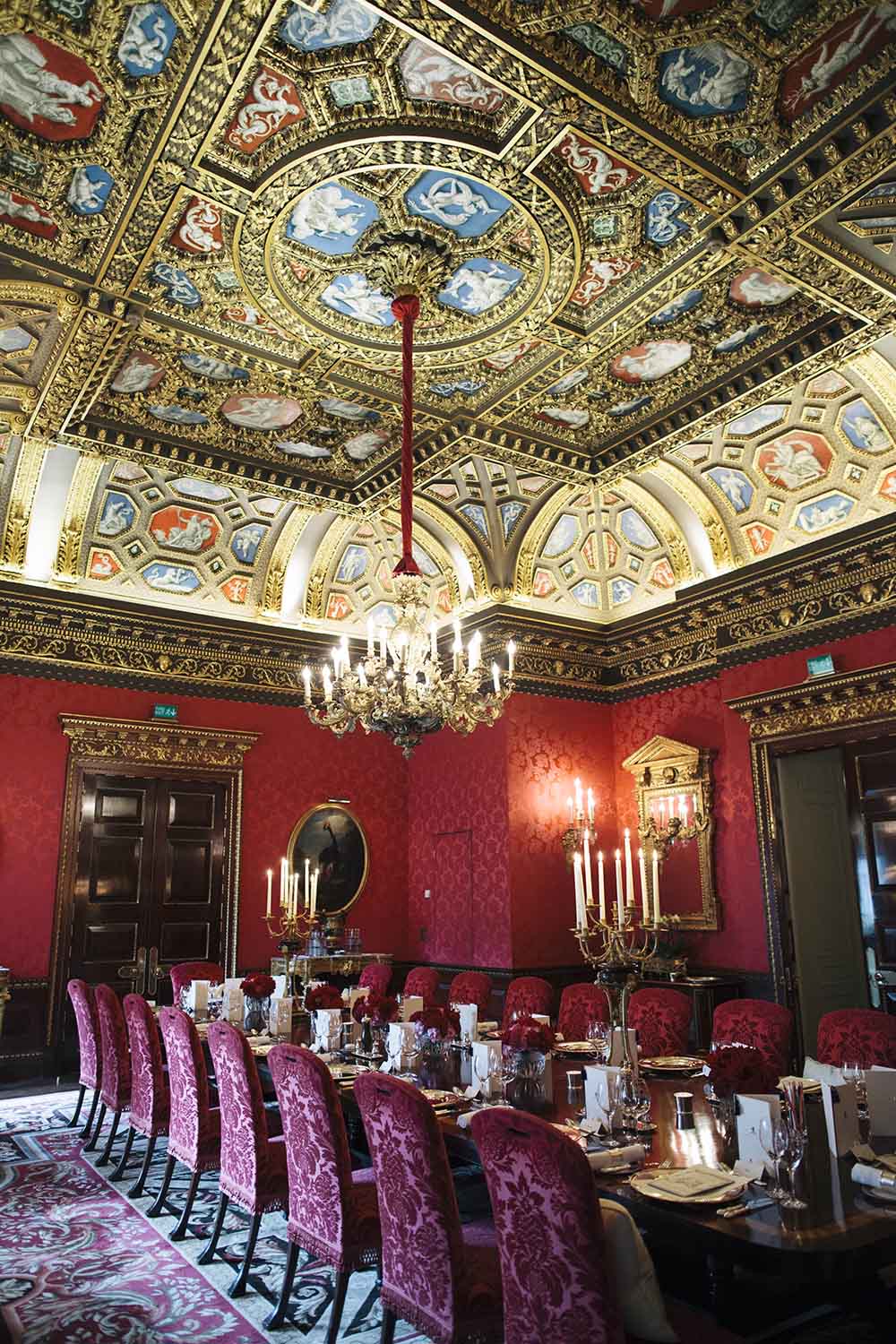 This definitive list of uber luxury wedding venue locations would not be complete without The Ritz London.
The great and the good have been frequenting this iconic hotel to hold their luxurious weddings and events here for more than a century.
It is an incredible legacy created by Swiss hotelier, César Ritz.
And as locations go, this landmark venue could not be better located.
The Ritz London is situated at 150 Piccadilly in St James', Mayfair.
A short trip from Belgravia and just around the corner from Pall Mall.
It backs onto verdant Green Park and is only a few minutes from one of my favourite roads for shopping, Bond Street.
The Ritz London is one of the most prestigious hotels in the world.
Your guests will be captivated by the exquisite food served up here.
They will also be in awe of the famed Louis XVI style interior design.
For smaller weddings, the Grade II listed William Kent Room is magnificent.
It will be an experience that all invited will remember.
9.) Mandarin Oriental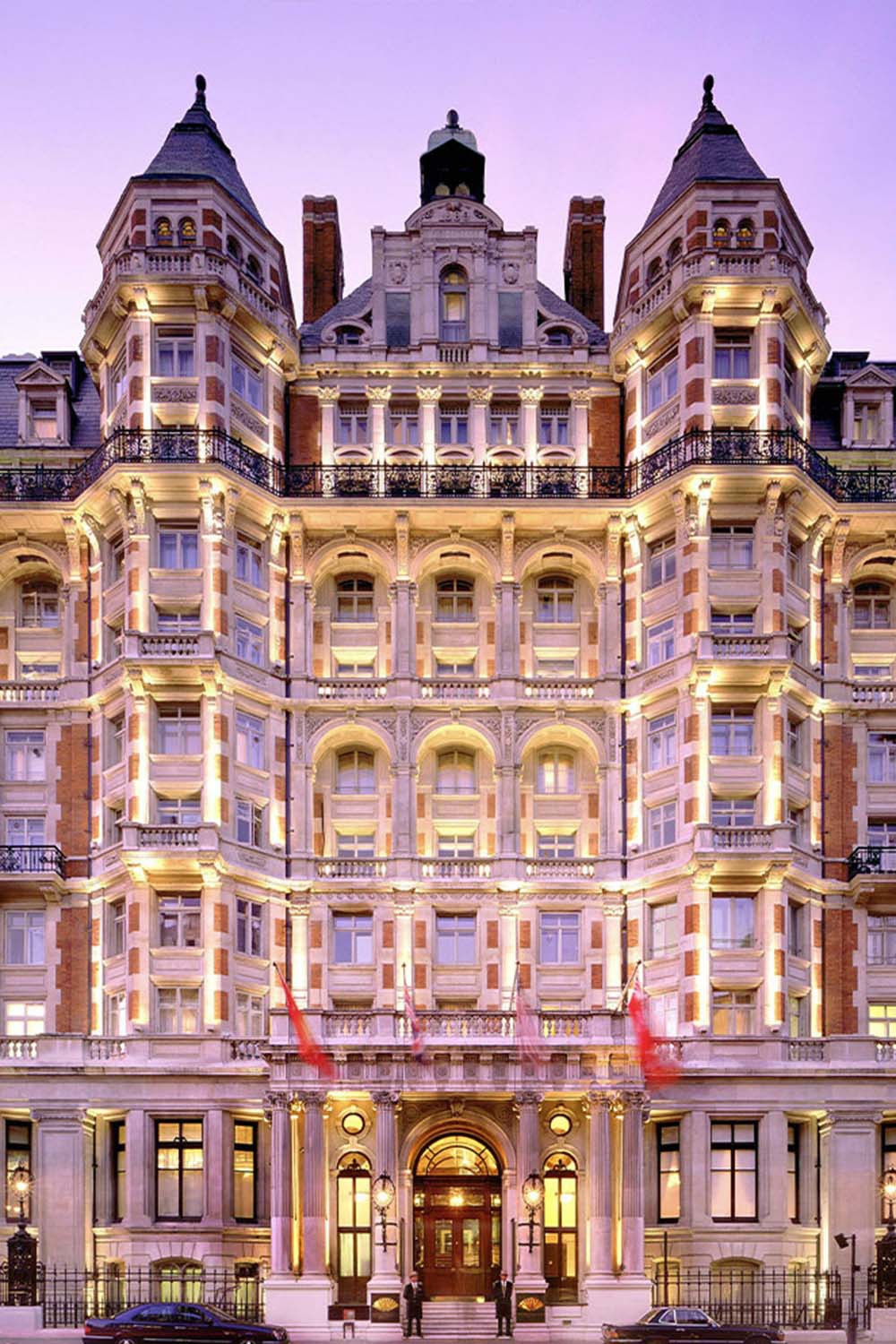 If, like me, you love the city, and are on the look out for a luxury wedding, then Mandarin Oriental Hyde Park could be the right venue for you.
I've been lucky enough to photograph at Mandarin Oriental before.
It is a perfect backdrop for wedding pictures.
Backing onto Hyde Park itself, this luxe, world-class five star hotel sits at 66 Knightsbridge, a short walk from Harrods.
It is also next door to the iconic Candy & Candy development One Hyde Park.
Sat snugly between between Kensington, Belgravia, Fulham and South Kensington, this timeless venue will leave your guests in awe.
10.) The Landmark London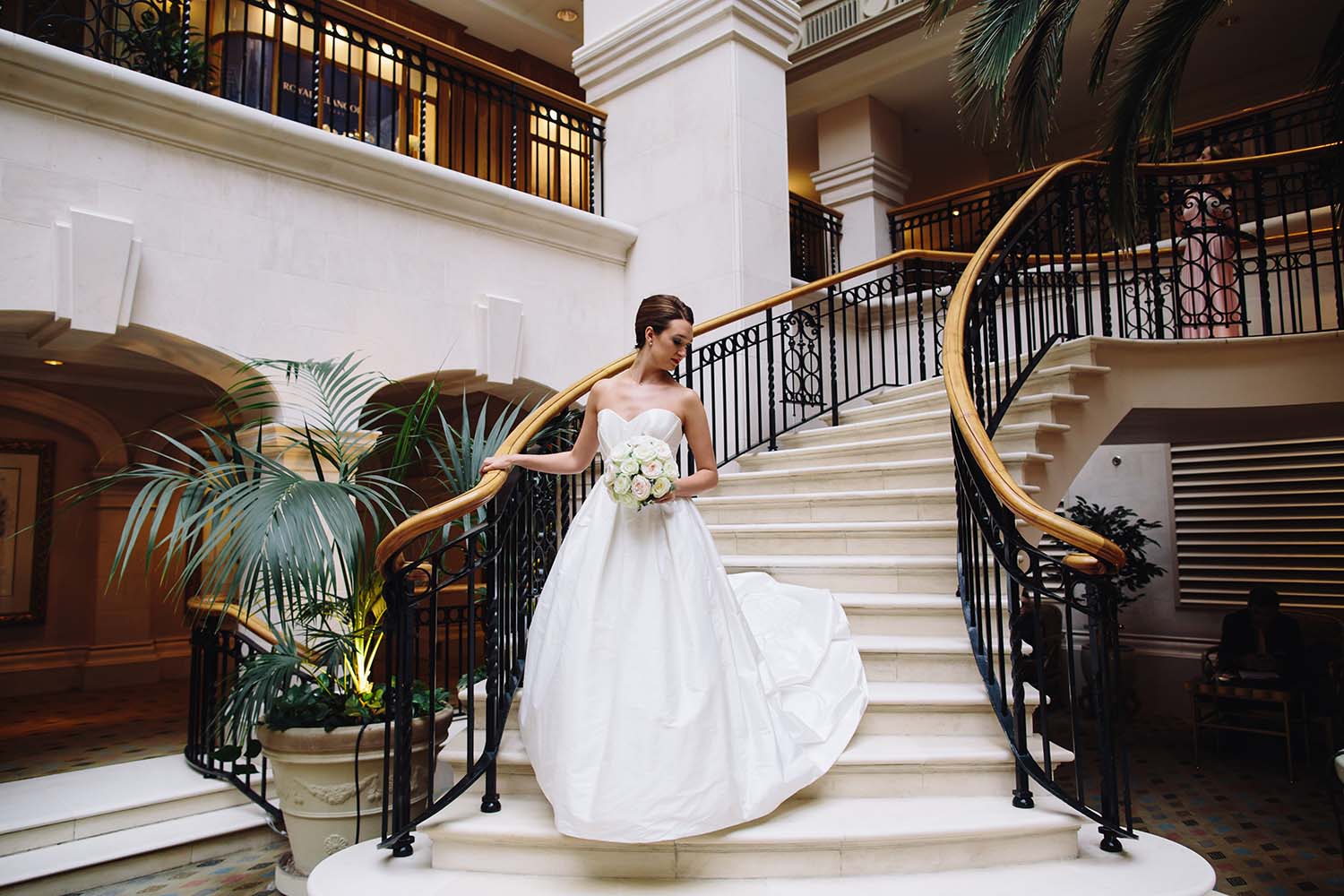 And lastly, we come to The Landmark London at 222 Marylebone Road, Marylebone.
The perfect locale especially given its proximity to Regents Park.
It is an elegant, five star palatial hotel complete with a beautiful glass atrium and palm trees.
You need to see the venue inside to believe it.
It's quite an experience.
The interiors are graceful and the feel is most definitely one of lavish luxury.
A wonderfully luxurious venue, it is the very definition of modern sophistication.