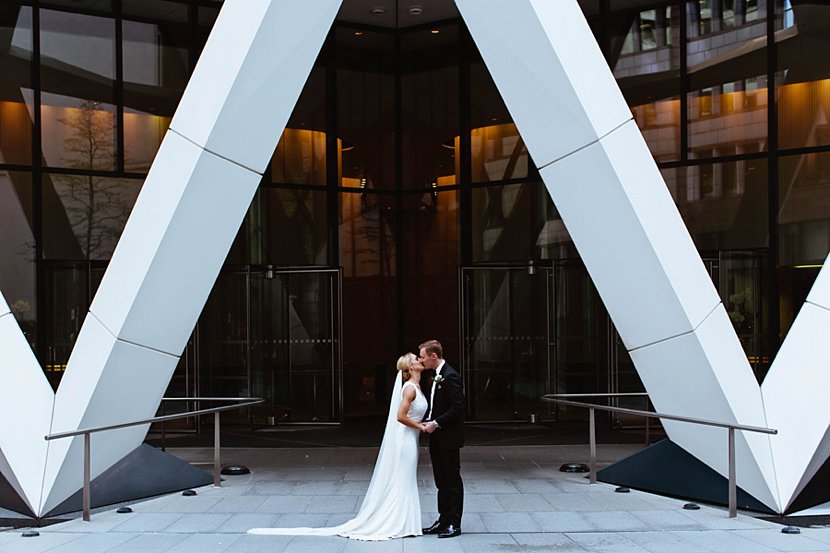 The Gherkin Wedding Photography
As one of London's most iconic and beloved buildings shooting wedding photography at The Gherkin is a real pleasure, as is working with lovely couples like Esme and Michael. These guys chose the perfect venue for their stylish London The Gherkin Wedding Photography.
On the day I arrived early at a nearby hotel so I could take some shots of Esme and her bridal party making their preparations for the day. Esme looked stunning in an elegant Pronovias dress that coupled with a full length veil gave the most perfect silhouette in all of my images. Hair and makeup on the day was done by Katie Coward. The overall effect was one of effortless and understated glamour. Esme looked stunning and so comfortable as a bride.
Esme and her bridal party walked from the hotel to The Gherkin which was fun. On arrival I quickly caught up with Michael and his groom's party before the ceremony.
The space looked amazing. Guests sat on transparent chairs so that no furniture could distract from the spectacular views of the London skyline. Flowers were the clever creation of Rachel Morgan and were in elegant and understated white with green foliage. Walking into the dome area was a real wow moment.
Now we were at the top of the gherkin building underneath the glass dome, with uninterrupted 360 degree views of London in the height of summer. It was spectacular but boy was it hot!
After a beautiful ceremony Esme, Michael and their guests enjoyed a drinks reception and Esme gave an incredible speech that was received with rapturous applause from everybody. Guests then spilled outside onto the street below for a fun confetti moment. As guests resumed their drinks reception making the most of the views and the sunshine I quickly whisked Esme and Michael away to take some portrait shots of them around the St Mary's axe area of London. St Mary's Axe was a medieval parish in the city of London though its original church was demolished in 1561 it has retained its original name. This small area of the city is a fantastic example of old architecture blended with new that really characterises the city of London. It was the perfect backdrop for my portrait shots of Esme and Michael.
Back inside the dome had been dressed ready for the wedding breakfast. Just imagine those views and with linen tables, almost invisible seating and elegant flowers on each table. In fact you don't need to imagine it just take a look at my images.
Everybody enjoyed a lavish meal, the menu having been chosen by Esme and Michael in conjunction with Searcys restaurants head chef Daniel Lofkin. Then there were speeches, and if you look at the images you can see how much they were enjoyed. These guys did great speeches, though as Esme and Michael are both lawyers it's fair to say that they both had the skills required to do a great job!
Now, as the sunset London lit up all around us and this was our cue for the serious partying to begin! The evening was kicked off with a romantic first dance that quickly saw Esme and Michael joined on the dancefloor by their guests - where many remained for the rest of the evening.
Before taking my leave I took an image of one of the views from the dome. Tower Bridge, the river and the Tower of London all lit up. It looked magical and the image of that view with Esme, Michael and their guests partying above it all seemed like a fitting image to close the story of their day.
A stylish and elegant wedding full of love and laughter. Congratulations to Esme and Michael for getting married and creating such an amazing day. I hope my images will enable you to relive it again and again for many years to come.
Suppliers
Venue: The Gherkin www.searcysatthegherkin.co.uk/londonweddingvenue
Flowers: Rachel Morgan Wedding Flowers www.rachelmorgaweddingflowers.co.uk
Dress: Pronovias www.pronovias.com/gb
Brides Shoes: Nine West www.ninewest.co.uk
Hair and Makeup: Katie Coward www.hairandmakeupbykatie.co.uk