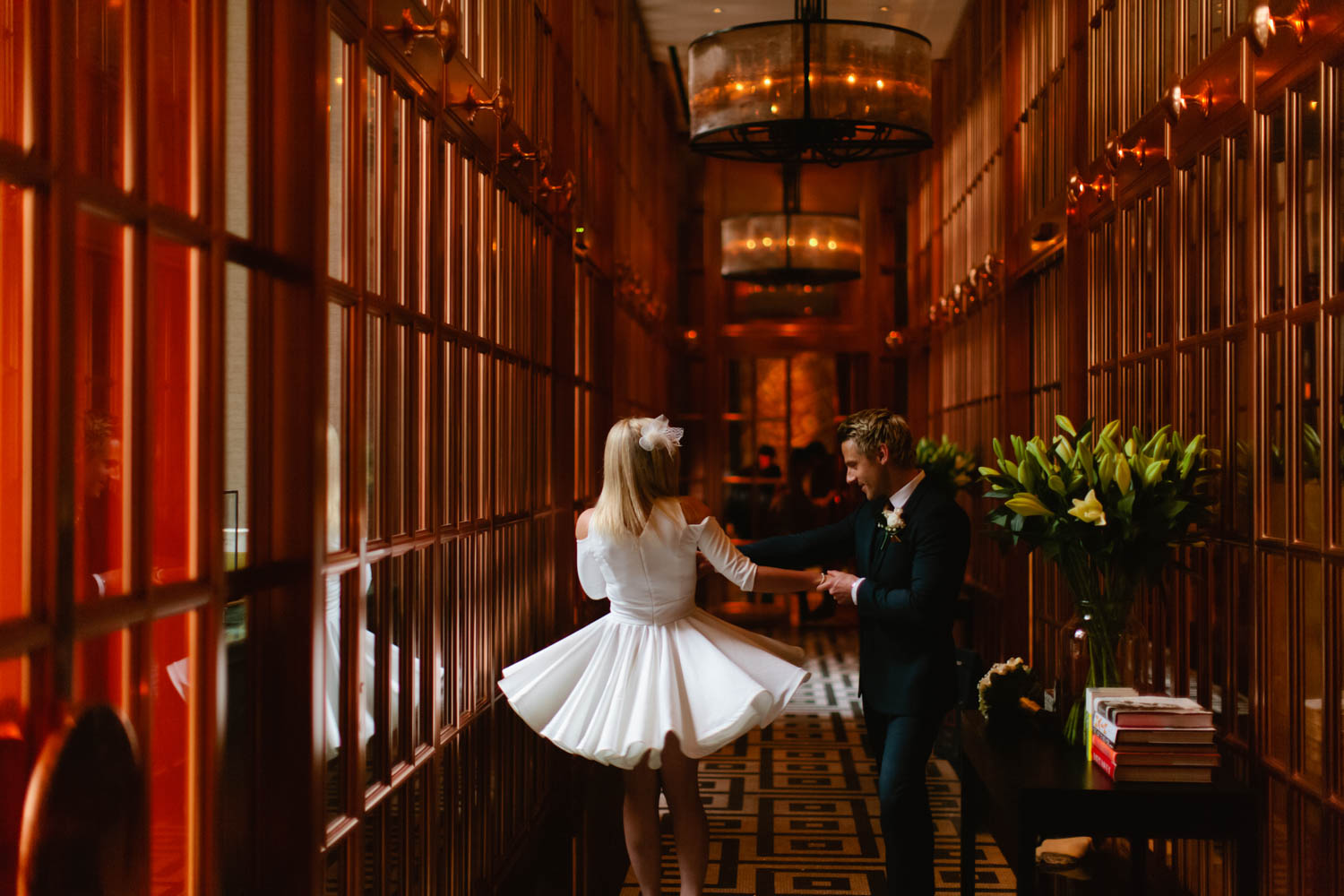 On what must be one of the single most romantic days in your life, Rosewood London is a luxury five star venue in Holborn, near Covent Garden, London. It offers newlyweds an exceptionally breathtaking backdrop for a special day in a great location where the West End meets the City.
This very distinctive and timeless space offers couples a sophisticated, personal service with a restaurant that is head and shoulders above the average wedding experience.
Venue Expectations
It's one of the rare Holborn wedding venues which provides the best of both worlds: an old worldly feels whilst also feeling very contemporary. It's housed in an historic Grade I listed Edwardian building which dates back to 1914. The interiors are extraordinarily rich with panelled walls and Cuban mahogany and marble floors throughout.
Choosing a Photographer
Choosing your wedding photographer may just be one of the single most important decisions you will make in the process of planning your wedding planning.
You don't need me to tell you that of course your photos will be your forever memories.
Images that in time, you will reflect on for the rest of your life.
When it comes to the search for a photographer, choose a person whose work you both really love and feel connected to.
Select someone who you are in no doubt will capture your special day flawlessly.
It's important to work with a London based photographer who has the benefit of local insights as well as the all important artistic eye.
Choosing to work with a photographer who is familiar the city is crucial when it comes to photographing your big day both beautifully and distinctively.
Having had well in excess of a decade of experience shooting weddings in London, I have all the expertise and know-how to flawlessly capture your wedding day.
I engage in a personal style of photojournalism which is creative and authentic.
Furthermore, I always make an effort to capture real, honest and natural moments with integrity, and exactly as they unfold.
I firmly believe your wedding photos should absolutely be an honest and true to life reflection of your uninque love story.
If you are both looking for a photographer who will have no hesitation in going far and beyond in order to capture your big day, then I would be genuinely privileged to play my part on your wedding day.
Hotels Close To The Venue
Rosewood London is situated at 252 High Holborn in Holborn, a vibrant neighbourhood which is very near to a great many of the city's finest hotels. So if you or indeed your guests are on the hunt for a luxury 5-star stay or if they're looking for something slightly cheaper, there's a huge range of hotels close by.
Some of the nearest hotels to Rosewood London include the following:
L'Oscar London – Situated at 2-6 Southampton Row,

L'Oscar London

is just around the corner from Rosewood London. This boutique Grade II listed 5 star hotel ticks all the luxury boxes and is a stone's throw from the buzz of theatre land.
The Hoxton, Holborn – Situated at 199-206 High Holborn, The Hoxton, Holborn personifies all the innovation and vitality of this fantastic uber chic brand of hotels. This fashionable and hip 4-star hotel is just a short walk away from Rosewood London and features contemporary interiors, a smart restaurant and bar and remains popular given that it's so close to the West End
Z Hotel – Ideally located nearby at 75 Kingsway, Covent Garden, the Z Hotel is a super 4 star hotel and represents excellent value for money.
Middle Eight – At 66 Great Queen Street, just 0.3 miles away,

Middle Eight

is a luxe 5 star next to the Royal Courts of Justice. Middle Eight features incredible views across the city. It also boasts several restaurants and bars and excellent event facilities.
NYX Hotel Holborn – If you're looking for a hip, urban place to stay midtown, located at 50-60 Southampton Row,

NYX Hotel Holborn

might be the one. It oozes verve and style within the heart of the West End. NYX Hotel Holborn is an ideal place to relax with a beautiful spa, sauna, steam room, gym and even a pool.
Getting Married Here
If you are on the hunt for a super stylish and extra special wedding venue in London, then this could the one for you.
With its beautiful interiors and fantastic location in the heart of Holborn, just moments from Covent Garden, this gorgeous venue is ideal for couples who are looking for romance on their big day.
The location is incredibly convenient given its proximity to lots of the city's finest hotels.
So if you have any guests jetting in from overseas, this is the perfect place for them too.
It has become one of the most popular wedding venues for very good reason.
I recommend booking ahead if you are keen to secure your special date here.
To Conclude
This is an incredible venue which is a perfect spot for couples on the hunt for a setting which boasts both style and panache on their wedding day.
In a super location and super close to so many of this city's impressive backdrops, there is no doubt that your wedding photos will be to die for.