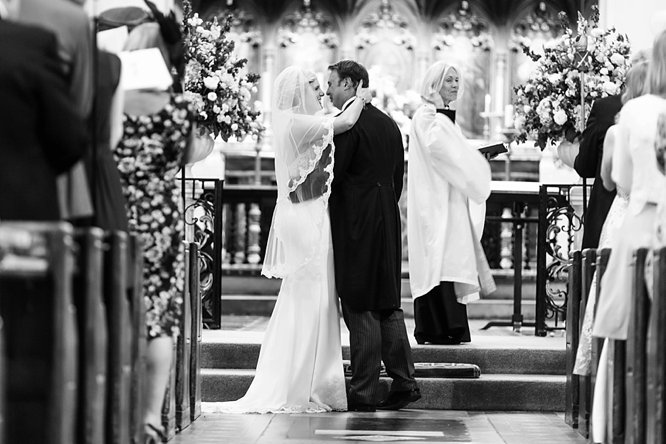 Nonsuch Mansion Wedding Photography
Being a London wedding photography means I get to shoot weddings at some iconic London locations. Catriona and Harry chose beautiful All Saints Church in Fulham for their wedding ceremony. A holy site since the 13th century All Saints remains a vibrant and relevant church to this day. Sitting on the banks of the river Thames it's just a stone's throw from Fulham Palace.
Catriona looked divine in her Alfred Angelo dress, which gave her the most perfect silhouette in all of my images. Catriona was also rocking a fine pair of Jimmy Choo shoes! Bridesmaids looked super cool maxi style chiffon skirts in soft shades.
It was a genuine privilege to work with Sara Bridson who was styling Catriona's hair. Sarah is a legendary hairdresser (I don't use the word legendary lightly. Sarah has styled hair for some of the biggest names in fashion, music and TV). Make up was done by Katy at Make Up by Katy.
Harry and his groomsmen looked fabulous in their traditional morning suits and I was particularly taken with Harry's red socks – definitely a man after my own heart!
After a beautiful ceremony everybody headed to Nonsuch Mansion for the reception. I love shooting wedding photography at Nonsuch Mansion. A Georgian Grade II listed Gem set in the stunning Surrey countryside, it was built for King Henry VIII to use as a hunting lodge. Now it is a luxury mansion house set in the most beautiful gardens.
Catriona, Harry and their guests arrived to a drinks reception and settled in to enjoy their exclusive use of this beautiful wedding venue and I took the chance to get some great portraits shots of Catriona and Harry. Shooting wedding photography at Nonsuch Mansion allows you to get some fantastic shots of your clients set against the backdrop of Nonsuch Mansion's beautiful gardens and grounds. I loved the shots taken under the row of flowering pergolas. Take a look, they're so romantic!
Talking of flowers, on the day the wedding flowers were beautiful and were the clever creation of local uber talented florist Brian Kirkby.
Nonsuch Mansion Wedding Photography
Now I love the quirks and details at weddings as they bring my clients personalities into their wedding days. At Catriona and Harry's wedding table names were named after their favourite west end shows which was a fun touch for these two self-confessed 'theatre nuts'. In fact it was evident in the speeches that both Catriona and her father are actors. Their speeches were brilliant.
Evening entertainment saw a live band and Catriona surprised everyone by getting up on stage and singing to everybody. She had an amazingly powerful voice and it was a fantastic moment with many guests (including Harry) being moved to tears. As things moved into the evening the real partying started with Catriona, Harry and their guests hitting the dance floor. Take a look at the dance floor shots, I love them!
This wedding represented everything that's great about being a London wedding photographer. A great couple, and a stylish and fun wedding day full of love and laughter. Congratulations to Catriona and Harry for getting married and creating a wonderful day for yourselves, your family and your friends to remember Nonsuch Mansion Wedding Photography.
Suppliers:
Church: All Saints Fulham https://www.allsaints-fulham.org.uk
Reception: Nonsuch Mansion www.nonsuchmansion.com
Dress: Alfred Angelo purchased at Adores Brides www.adorebrides.co.uk
Shoes: www.jimmychoo.com
Make Up: Make Up By Katy www.makeupbykaty.com
Hair: Sarah Bridson http://mpmusicservices.com/services/sarah-bridson
Flowers: Brian Kirkby www.briankirbyflowrs.co.uk