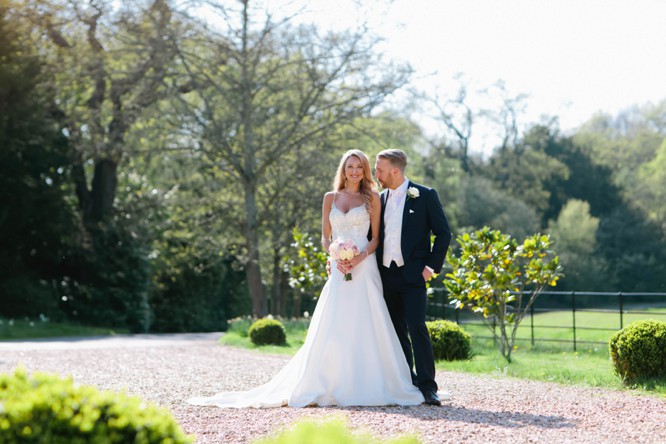 Wedding photography at Botley's Mansion
Shooting London wedding photography is the perfect job for me as I get to work with great couples like Coral and Stuart and see some fantastic wedding venues. And this is certainly the case when I shoot wedding photography at Botley's Mansion in Surrey. I'll get back to all the reasons why I love shooting wedding photography at Botley's Mansion in a minute. Let's start at the beginning of Coral and Stuart's day.
First of all I have to say. It was a scorchingly hot day! Remember last summer, all those lovey hot days, well Coral and Stuart's wedding was on one was one of the hottest! I arrived early to get some shots of Coral as she got ready in one of Botleys Mansion's gorgeous bridal suites. Coral was in good hands with her attentive bridesmaids along with some medicinal champagne! Hair and makeup on the day was done by the very talented Emma Jane Walsh.
Coral looked stunning in her Maggie Sottero dress that had the most beautiful backline and was shaped to give her a perfect silhouette in all of my images. The look was effortlessly glamorous, Coral looked so comfortable as a bride. Bridesmaids wore a pretty pastel pink (first robes, then dresses!)
Before the ceremony I took advantage of Coral and Stuart's exclusive use of this amazing venue and took some shots of Botley's Mansion's stunning rooms all dressed and ready for the day. Now, I get to talk about why I love shooting wedding photography at Botley's Mansion. The first reason is LIGHT! (We photographers are obsessed with it!) And Botley's Mansion has light in abundance.
Wedding venues can be dark places, think castles, churches etc.. So to work in an ultra glamourous and high end luxury venue like Botley's Mansion with its palatial country house streaming with natural light and set in 56 acres of beautiful Surrey countryside is a dream booking for any London wedding photographer. And I'm not kidding about the light thing. Just take a look at these images!
Coral walked from her suite to the ceremony in Botley's Mansions historic green room down the sweeping majestic staircase.
After a beautiful ceremony there was a drinks reception in Botley Mansion's stunning atrium with guests soaking up the sheer opulence of the venue and the stunning weather. I whisked Coral and Stuart away for some quick portrait shots set around the stunning grounds and gardens of Botley's Mansion. The afternoon light giving me some stunning shots. Take a look!
One of my highlights of Coral and Stuart's wedding day were the speeches. A very emotional speech from Coral's father meant that there wasn't a dry eye in the house....though the tears of sadness quickly turned to tears of joy with Stuart's hilarious groom speech. Then came Stuart's best man speech which had even me in hysterics!
Evening celebrations began with the cutting of a beautiful wedding cake followed by a very sweet first dance.
Talking of dance floors! Dance floor rules at Coral and Stuart's wedding were clearly displayed for guests on a blackboard and were rigorously adhered to. Particular attention was shown to shimmying, lunging and my personal favourite 'dance-offs'. Coral and Stuart's guests were nothing if not obedient! Serious shape cutting all-round!
With the sundown and a packed dancefloor I saw that it was time for me to take my leave. Before getting into the car I took one last shot of Botley's Mansion looking so majestic and inviting all lit up with Coral, Stuart and their loved ones all partying inside. It seemed a fitting image to close the story of their amazing wedding day.
London Wedding Photography bookings don't get much better than this. Congratulations to Coral and Stuart for getting married and allowing me to tell the story of your day. Here's hoping another gorgeous couple ask me to shoot wedding photography at Botley's Mansion soon. I'm missing the light!
Suppliers:
Venue: https://bijouweddingvenues.co.uk/botleys-mansion-wedding-venue-surrey/about-the-venue
Hair and Make: Emma Jane Walsh http://www.emmajanewalsh.com
Catering: https://bijouweddingvenues.co.uk/make-it-delicious/wedding-breakfast/wedding-breakfast
Bridal Dress Designer: https://www.maggiesottero.com
Bridal Dress Shop: https://www.thebridalhousebuckinghamshire.co.uk
Bridal Shoes: https://www.jimmychoo.com
Flowers: http://ebflowers.co.uk
Grooms and Groomsmen's suits: https://www.tedbaker.com
Bridesmaids Dresses: https://www.tfnclondon.com