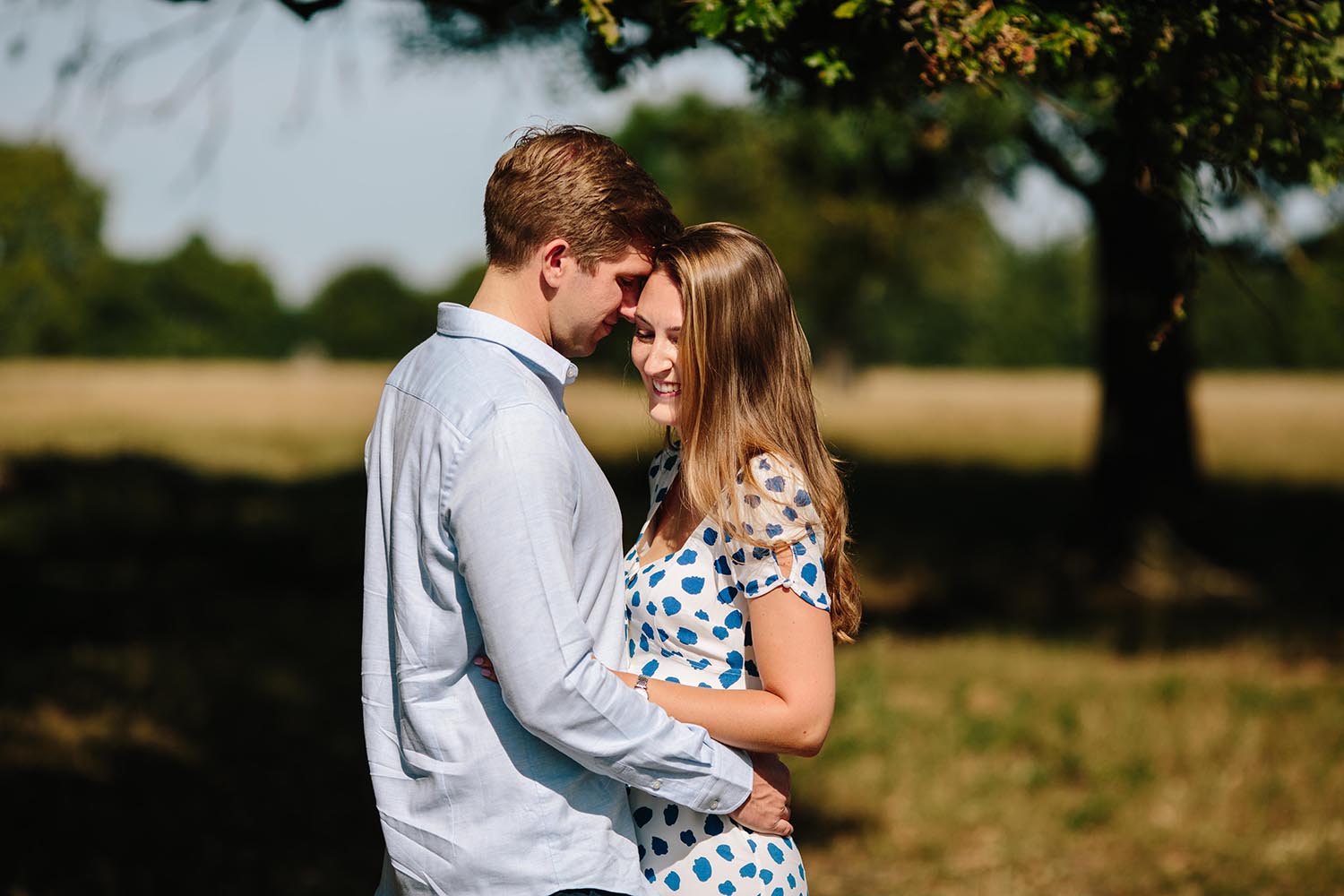 Engagement photos in Hyde Park, Westminster are one of my favourite locations as a London Wedding Photographer.
The gorgeous backdrops with incredible views across the city, make this such a perfect setting for a professional photographer like me, for a multitude of reasons.
Personally, I really love how it's possible to spend the best part of two hours walking about this park without even scratching the surface.
At 142 hectares, or in old money, 350 giant acres, Hyde Park is massive and so incredibly versatile.
Keep scrolling down to see some pre-wedding photoshoot poses which don't actually involve any posing at all.
It's all about just slowing down, being present and relaxing in each others company.
Actually, pre wedding photoshoot poses for couples is definitely on my list for another blog post for another day!!
Hyde Park Engagement Photos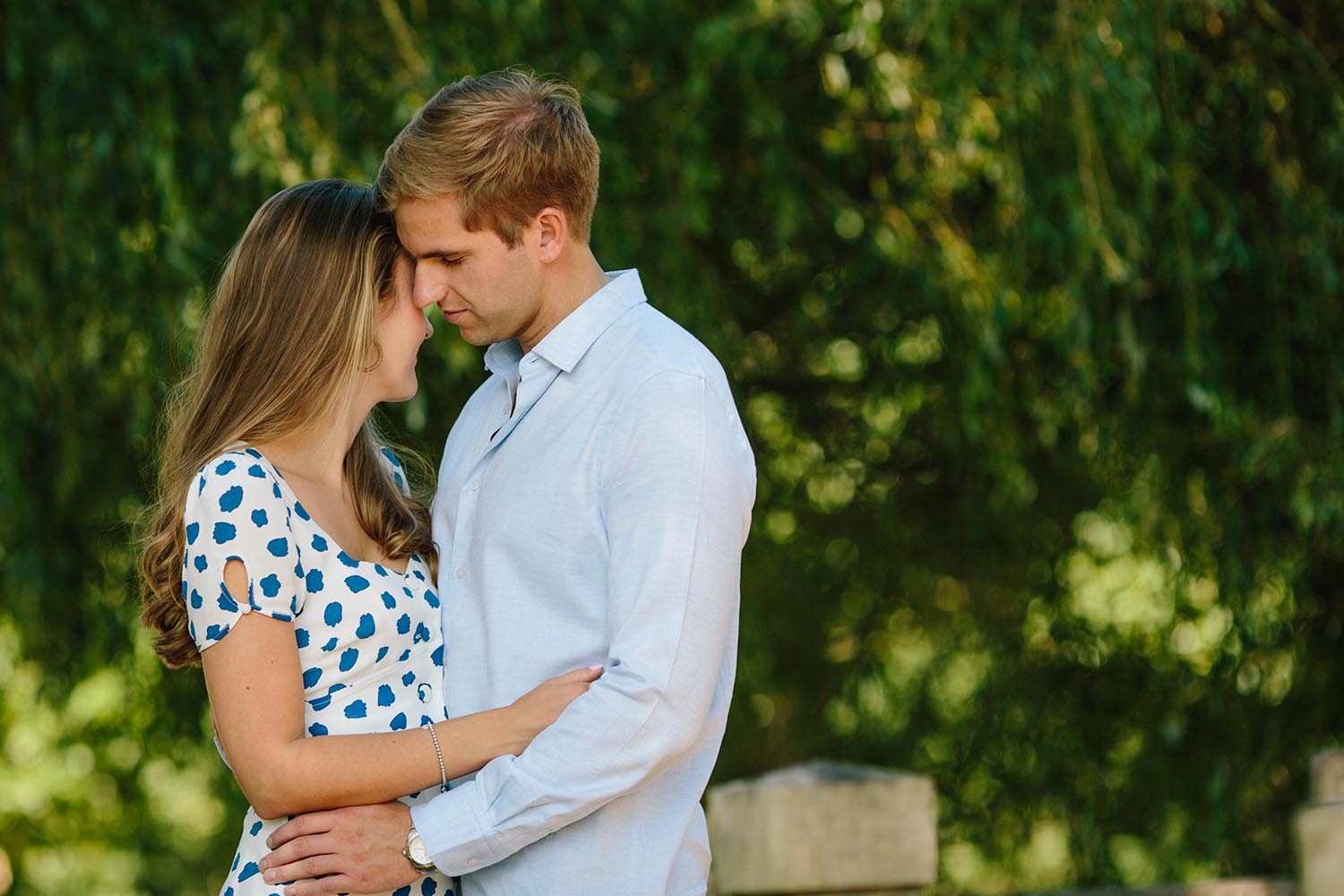 There's Diana Memorial Fountain, The Serpentine Lake as well as the world famous Serpentine Lido, Peter Pan Statue and the wonderful Band Stand.
At Christmas time, there's the Hyde Park Winter Wonderland which brings hundreds and thousands of people.
I must admit, we've never been though it is supposed to be a real treat.
Though the reason most couples are drawn to the park for engagement pictures ideas is for the peace and tranquillity.
There is a genuine feeling of being in the countryside and yet remarkably, Hyde Park is firmly rooted within Zone 1.
That's my main motivation for coming to this perfect corner of London.
That country feeling and THE absolutely perfect backdrop for Engagement Photos in Hyde Park, Westminster.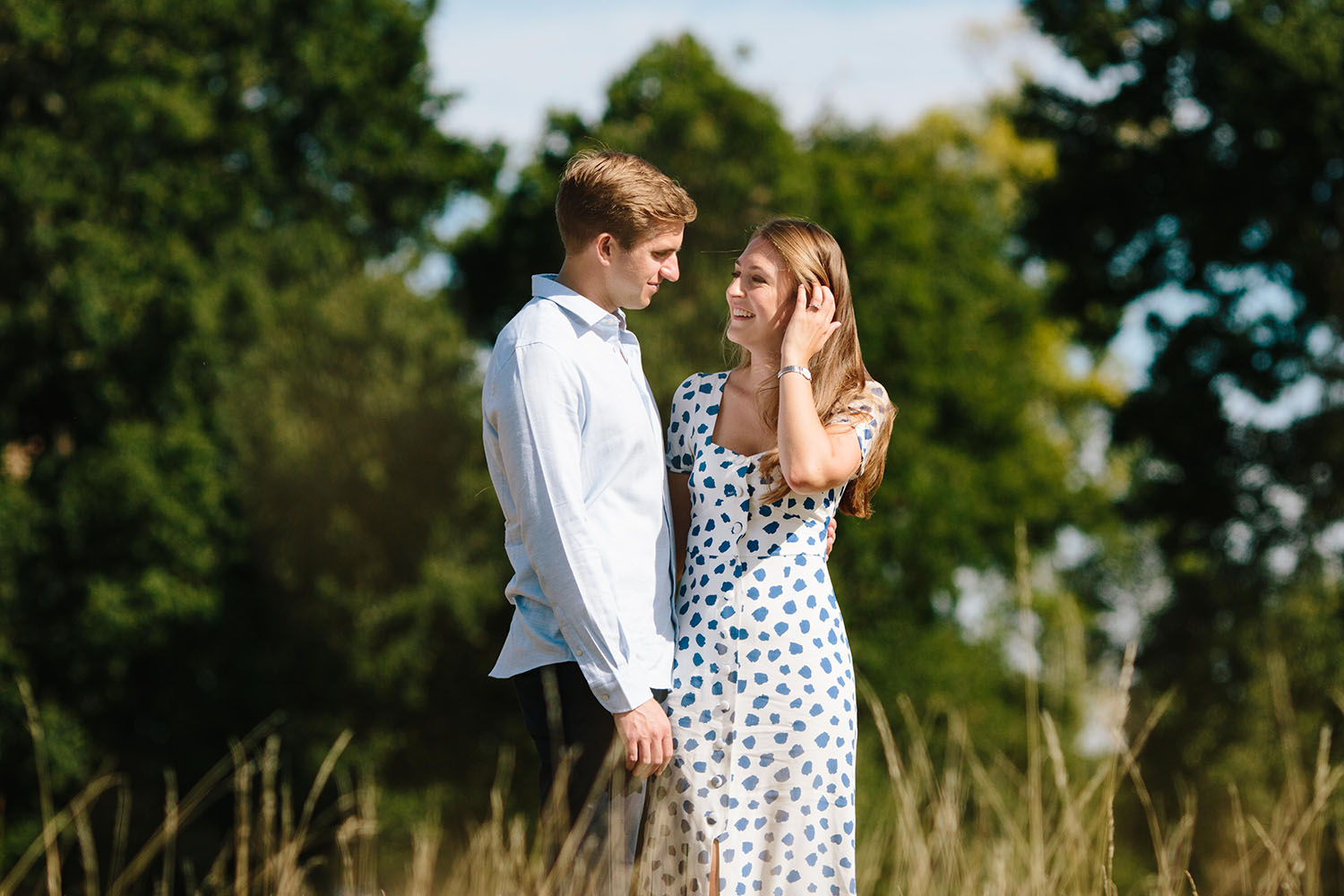 There are ancient trees everywhere and I just adore the grass.
It reminds me of growing up as a kid.
I love the way it blows in the wind and the colour of it is just so so gorgeous and so quintessentially British countryside.
And yet, here we are in Hyde Park, in the centre of London so close to the city.
It really is special this place and that's why I so love to bring my couples for Engagement Photos in Hyde Park, Westminster.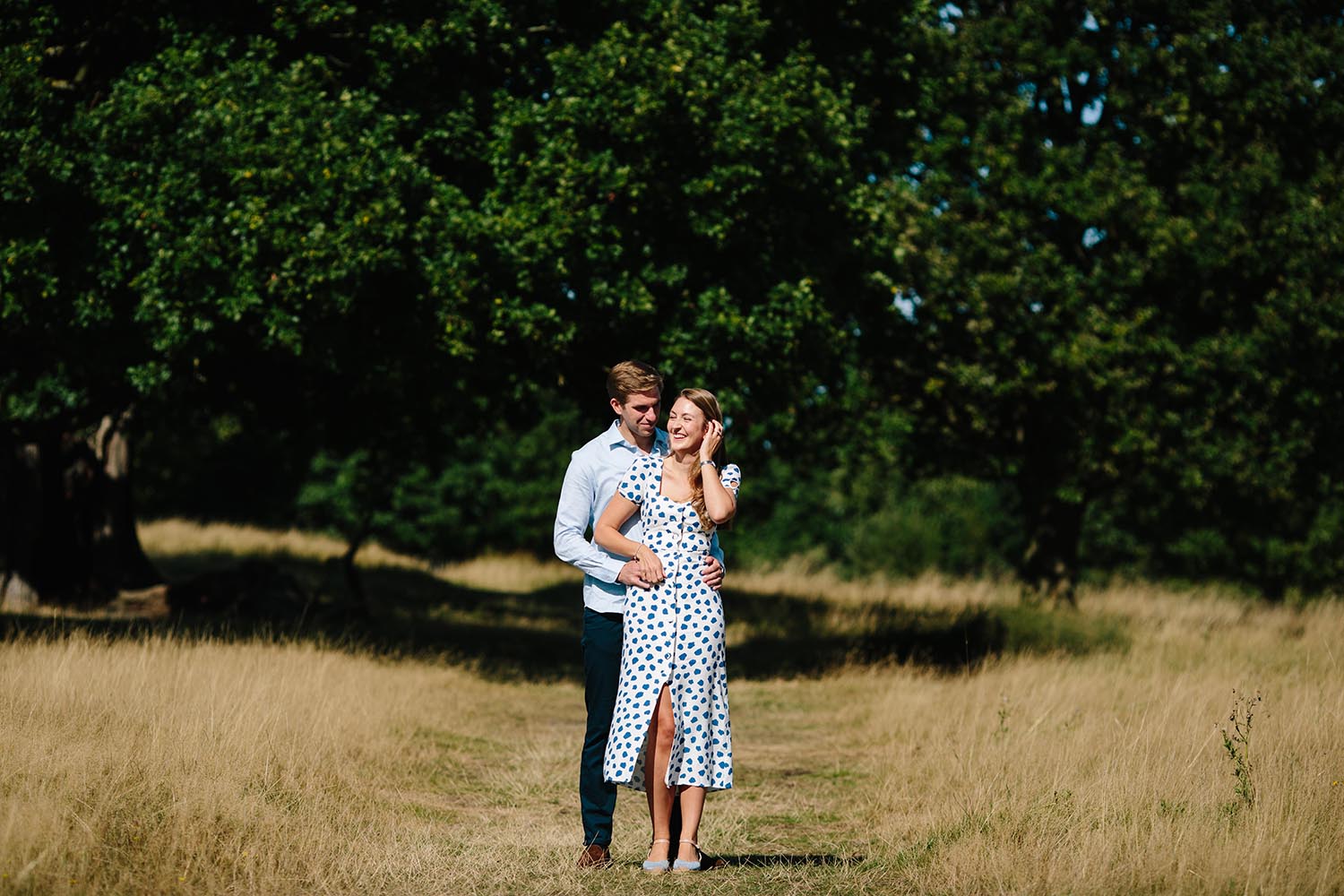 Engagement Photos in Hyde Park
Huge, towering protected trees some of which are hundreds of years old and I love using trees as a backdrop for London pre-wedding photography.
At the north side of Hyde Park is the Italian Gardens with some very interesting statues and a beautiful ornamental water garden.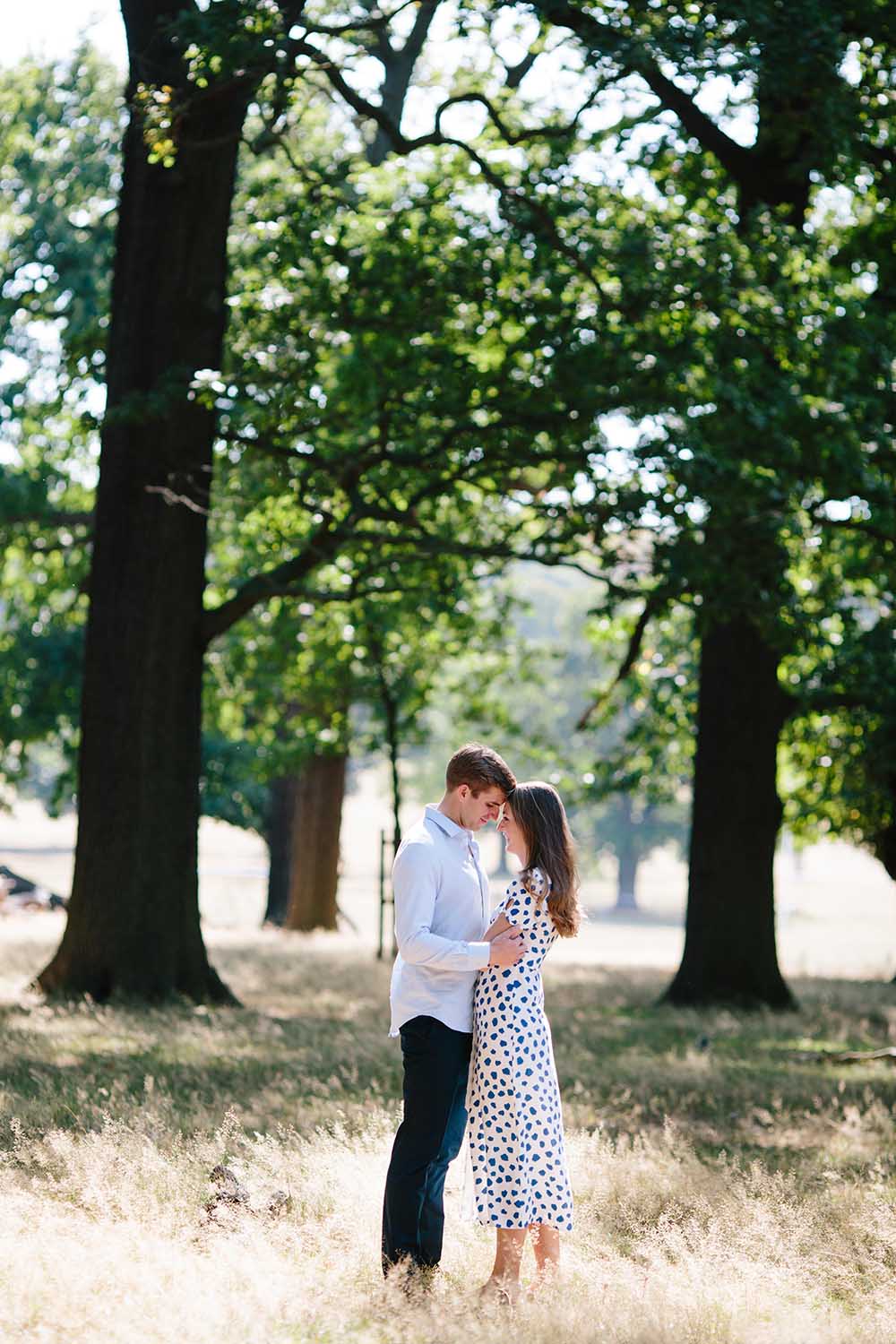 Technically, that's in Kensington Gardens, which is within Hyde Park although they drift into one another because the boundary is not visible.
Actually the best engagement photographers London love to whisk their couples for pre-wedding photoshoots in Kensington Gardens.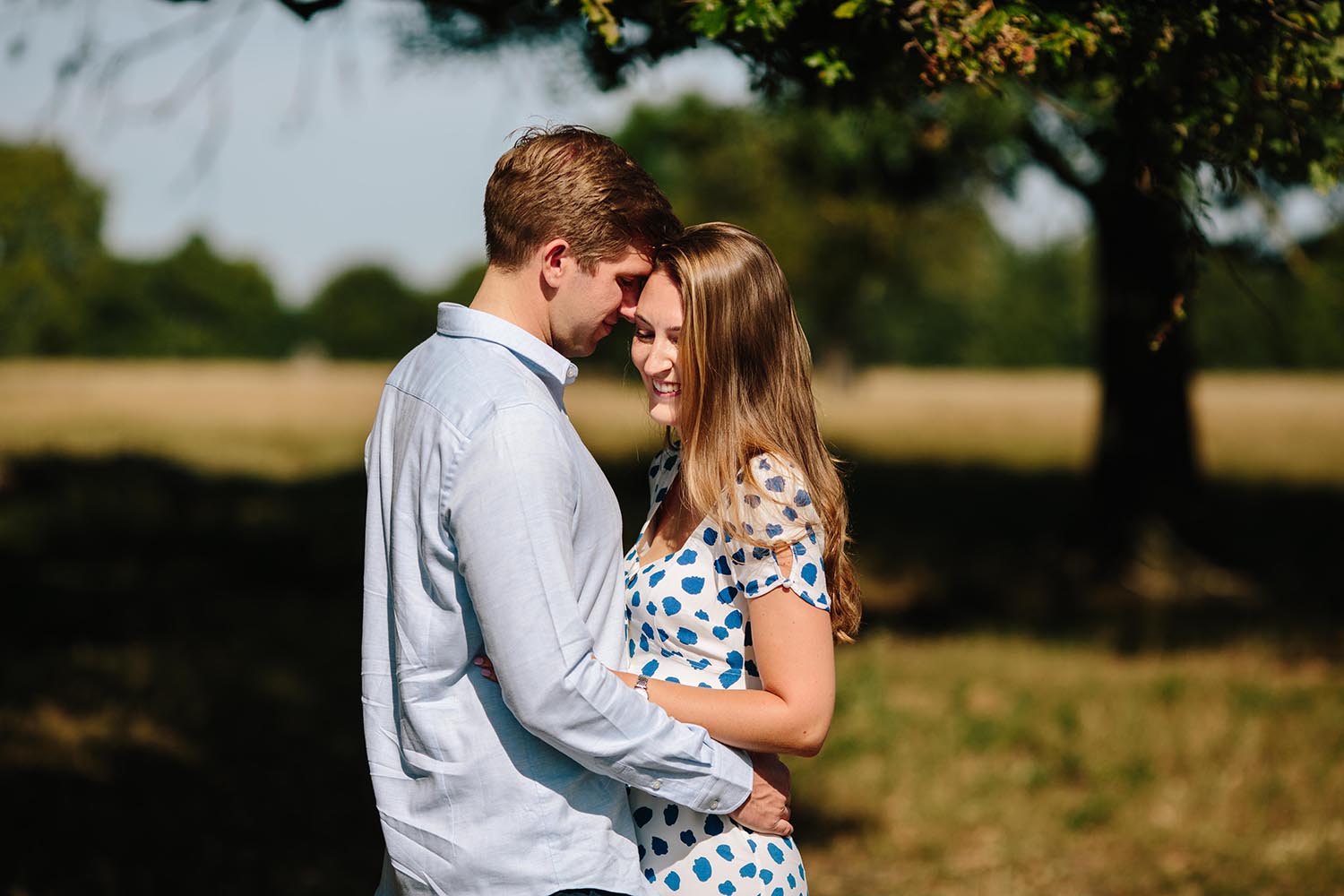 It really is such a lovely area to make pictures and if you come midweek, it never gets busy.
With one exception....keep reading to learn more!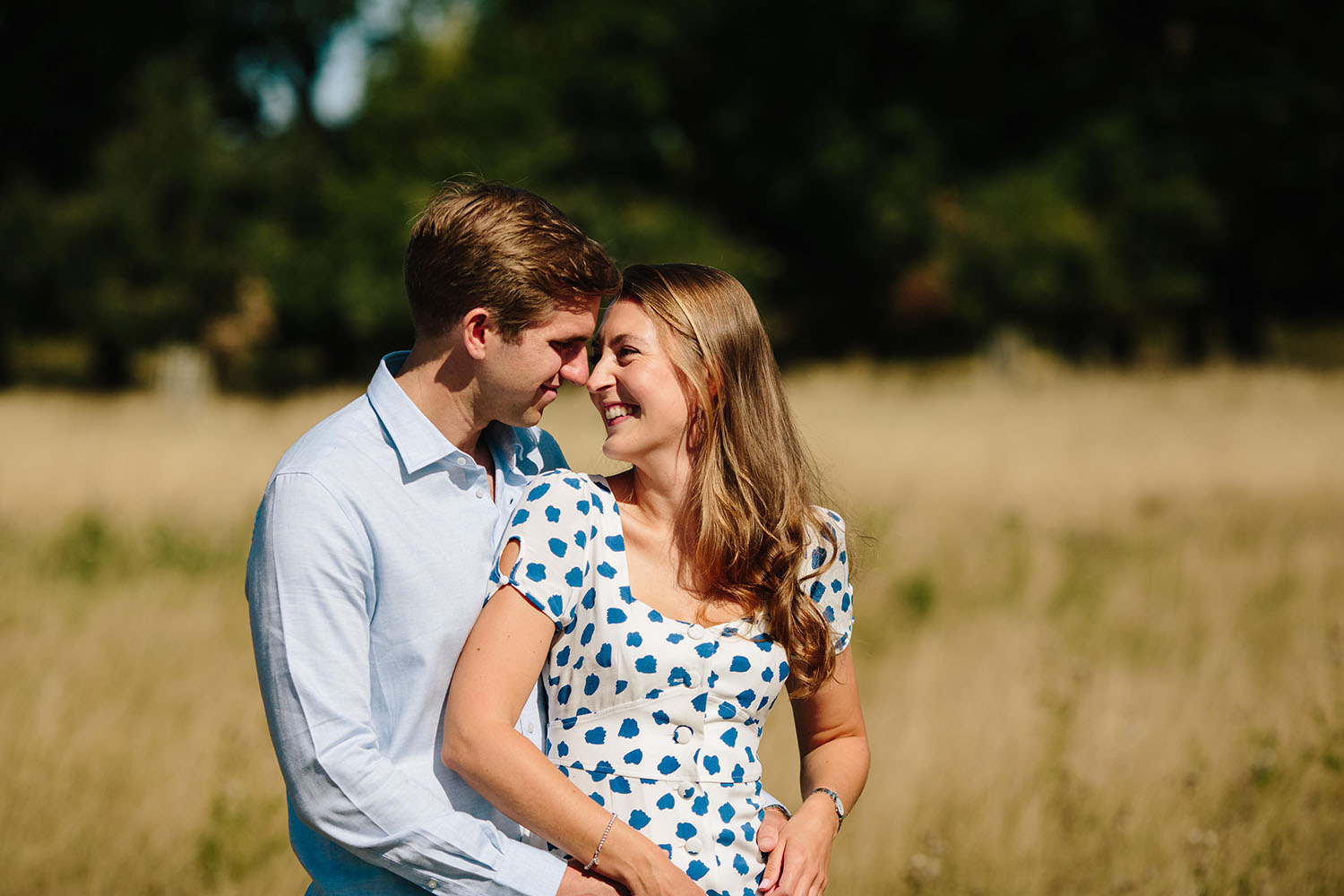 Engagement photography near me
I love to head to the south where the stunning Albert Memorial Kensington Gardens are.
I'm not sure if you have read it yet, but these particular gardens in Hyde Park I do mention in my post about London Engagement Photo Locations.
If you come to Albert Memorial Kensington Gardens when the cherry blossom is out, it really is one of the most fabulous locations for engagement photos.
Though a word of warning.
It is alive with beautiful people dressed up to the nines getting selfies for their Instagram.
Actually some influencers come with a team of creative photographers to capture professional photos!!
So, my advice, if you are looking for a bit of tranquility.... arrive early.
If you come during the day, it can become very, very busy!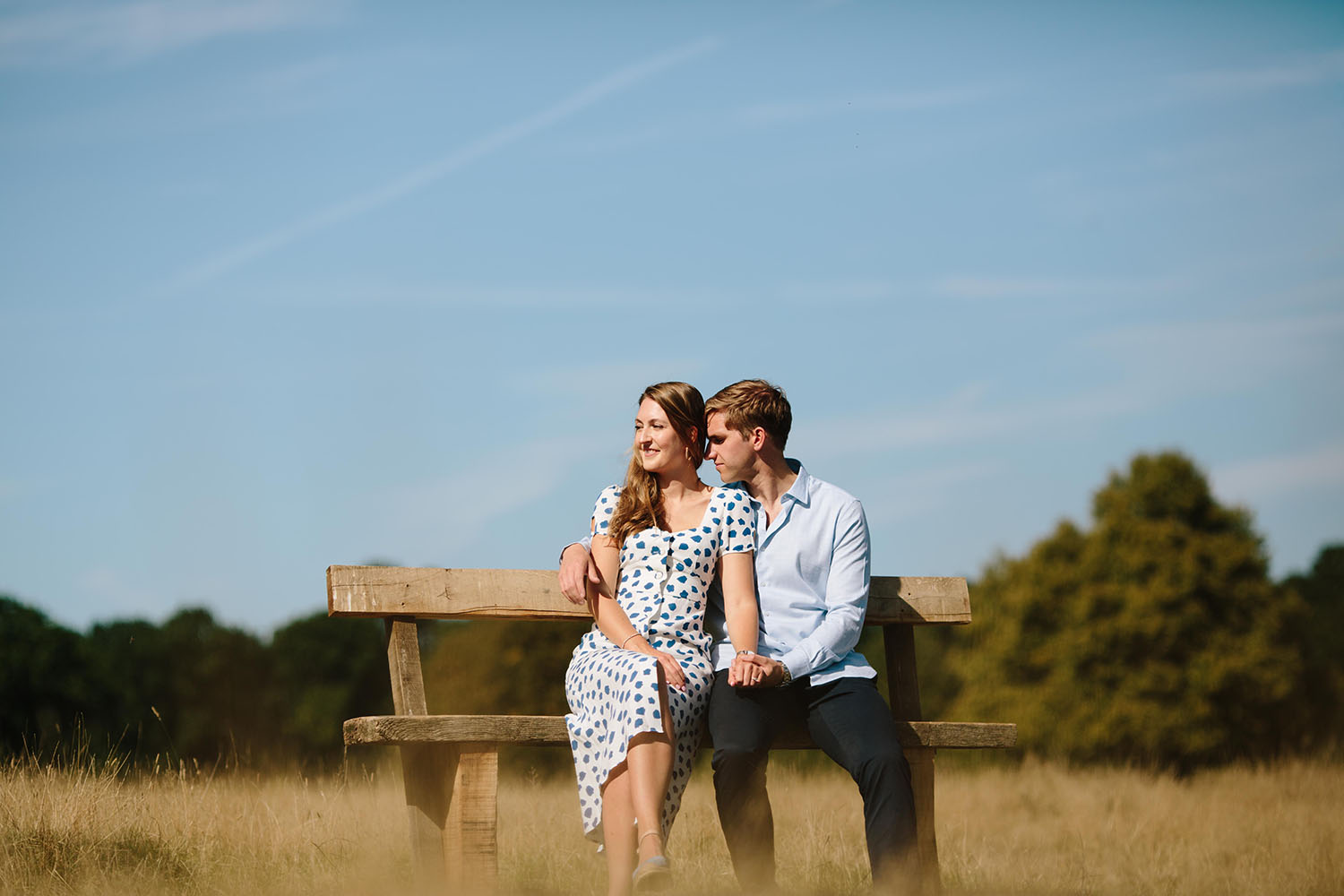 Engagement Photos in Hyde Park
So there we have it.
If you would like to see some more London pre-wedding photos inspo for engagement photo locations, by all means head over to my blog for more information.
As you will have gathered, I love these engagement sessions.
They are a great opportunity for us all to get to know each other before the big day.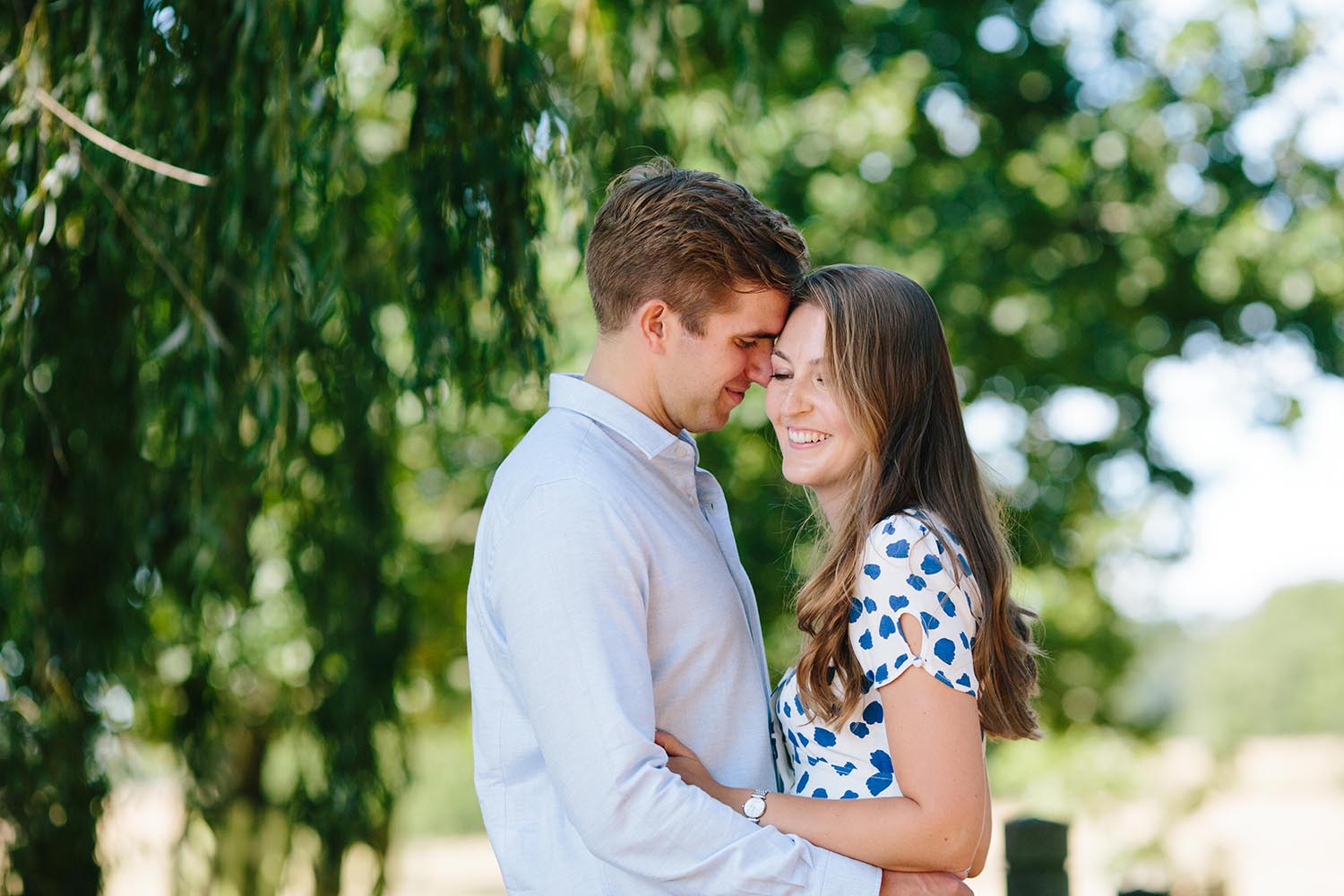 It's a chance for you both to know what's it like to be in front of a camera in a relaxed setting.
It's also nice because there's no time pressures so we can move around in your own time.
It's relaxing, it's fun and more importantly off the back of it, you have a fistful of photos of you both looking really lovely.
Which never seems to happen does it?
Anyhow, enough of my waffling.
Here's one last picture of some Engagement Photos in Hyde Park, Westminster to whet the appetite.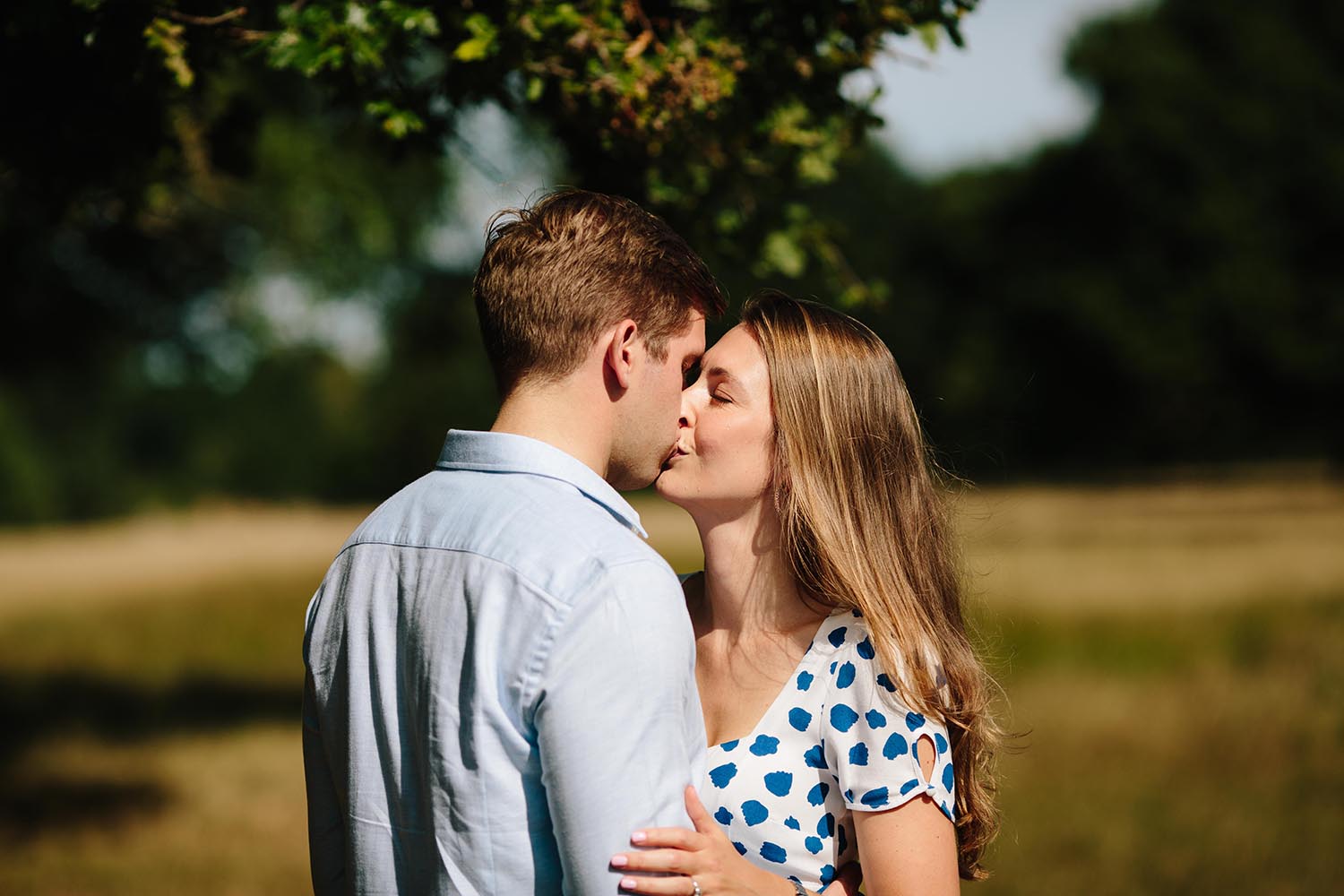 To discover more about my engagement photo shoot London prices, please use the contact page.